A Framework for Collaborative Updates in Selective Data Replication Communities
(2007)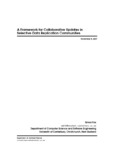 View/Open
Type of Content
Theses / Dissertations
Publisher
University of Canterbury
Language
English
Collections
Abstract
Collaborative replication updates are an attractive property of Selective Data Replication in which data consumers cooperate to update their data set replications. Data consumer communities are implemented as groups of intelligent software agents who make decisions about when updates should occur. The software agent paradigm is suitable for achieving collaboration between individual agents, however some structured collaboration model must be followed. The theory of Cooperative Problem Solving (CPS) [19] describes a theoretical model for achieving collaboration between a group of software agents. We present a framework implemented using the OPAL agent platform, and derived from the CPS theory, for achieving collaborative replication updates within a community of data consumers.
Related items
Showing items related by title, author, creator and subject.
Gu, Xuan

(

University of Canterbury. Computer Science and Software Engineering

,

2008

)

The main purpose of this research is to incorporate additional higher-level semantics into the existing data replication strategies in such a way that their flexibility and performance can be improved in favour of both ...

Cloud storage is a mature and widely used cloud technology. Behind this, it involves the proofs of the retrievability of files stored on the server, which allows the client to remotely check whether its files are correctly ...

Grasset, R.

;

Looser, J.

;

Billinghurst, Mark

(

University of Canterbury. Human Interface Technology Laboratory.

,

2005

)

In recent years there have been a number of software frameworks proposed for developing augmented reality (AR) applications. However these frameworks typically do not address three types of interfaces; tangible, ...