Fire Resistance of Epoxy-grouted Steel Rod Connections in Laminated Veneer Lumber (LVL)
(2004)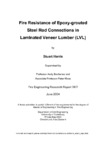 View/Open
Type of Content
Theses / Dissertations
Publisher
University of Canterbury
Language
English
Collections
Abstract
Epoxy-grouted steel rods are becoming increasingly popular for connections in structural timber in glue-laminated timber (glulam) and laminated veneer lumber (LVL). This research focuses on the fire resistance of these connections in LVL timber. These connections have been found to have high strength under service temperatures, but epoxy is known to soften at relatively low temperatures. To determine connection performance, an experimental investigation was carried out on the axial tensile strength of connections that utilised a threaded steel rod bonded into the timber using two epoxy resins and a composite adhesive. Some specimens were tested at constant elevated temperatures while similar specimens were tested in simulated fire conditions under constant load. The three adhesives tested gave different connection strengths at ambient temperatures and showed different strength losses at elevated temperatures.
Related items
Showing items related by title, author, creator and subject.
Lau, Puong Hock

(

University of Canterbury. Civil Engineering

,

2006

)

The fire resistance of timber connections is relatively unknown in the construction and design industries even though they are widely used. This research focuses on the fire resistance of nailed, screwed, bolted and ...

CHUO, Terence Chung Biau

(

University of Canterbury

,

2007

)

The embedment strength of timber with respect to exposure temperature has not been widely studied. Some studies have suggested that the timber totally loses its embedment strength when the timber temperature reaches ...

Moss, P.J.

;

Buchanan, A.H.

;

Fragiacomo, M.

;

Lau, P.H.

;

Chuo, T.C.

(

University of Canterbury. Civil and Natural Resources Engineering

,

2009

)

This paper describes an investigation into the fire performance of bolted tensile connections in laminated veneer lumber (LVL) made from radiata pine. The capacity of the bolted connections depends on the embedding ...