A Framework for Visually Realistic Multi-robot Simulation in Natural Environment
(2017)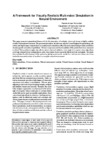 View/Open
Type of Content
Conference Contributions - Published
Publisher
University of West Bohemia
ISSN
1213-6972
Collections
Abstract
This paper presents a generalized framework for the simulation of multiple robots and drones in highly realistic models of natural environments. The proposed simulation architecture uses the Unreal Engine4 for generating both optical and depth sensor outputs from any position and orientation within the environment and provides several key domain specific simulation capabilities. Various components and functionalities of the system have been discussed in detail. The simulation engine also allows users to test and validate a wide range of computer vision algorithms involving different drone configurations under many types of environmental effects such as wind gusts. The paper demonstrates the effectiveness of the system by giving experimental results for a test scenario where one drone tracks the simulated motion of another in a complex natural environment.
Citation
Ganoni O, Mukundan R (2017). A Framework for Visually Realistic Multi-robot Simulation in Natural Environment. Plzen, Czech Republic: 25th International Conference on Computer Graphics, Visualization and Computer Vision 2017. 29/05/2017-02/06/2017. Journal of WSCG.
This citation is automatically generated and may be unreliable. Use as a guide only.
Keywords
Robot simulation; Drone simulation; Natural environment models; Natural feature tracking; Unreal Engine 4 (UE4)
ANZSRC Fields of Research
08 - Information and Computing Sciences::0801 - Artificial Intelligence and Image Processing::080111 - Virtual Reality and Related Simulation
46 - Information and computing sciences::4602 - Artificial intelligence::460207 - Modelling and simulation
09 - Engineering::0906 - Electrical and Electronic Engineering::090602 - Control Systems, Robotics and Automation
Rights
Permission to upload on UC Repository granted by Professor Vaclav Skala, 11/11/17
Related items
Showing items related by title, author, creator and subject.
Ganoni O

;

Mukundan R

;

Green R

(

MDPI AG

,

2018

)

This paper presents a framework for simulating visually realistic motion of underwater Remotely Operated Vehicles (ROVs) in highly complex models of aquatic environments. The models include a wide range of objects such as ...

Polak V

;

Bradley, Brendon

;

Zhu M

;

Bae, Sung Eun

;

Motha J

;

Razafindrakoto HNT

(

2018

)

Overview. GMSimViz is an automation tool that produces an animated 3D visualization of geological faults, ground motion and other earthquake related data. Typically verification of ground motion simulations involves ...

Chase, Geoff

;

Preiser JC

;

Dickson JL

;

Pironet A

;

Chiew YS

;

Pretty CG

;

Shaw, Geoff

;

Benyo B

;

Moeller K

;

Safaei S

;

Tawhai M

;

Hunter P

;

Desaive T

(

2018

)

© 2018 The Author(s). Critical care, like many healthcare areas, is under a dual assault from significantly increasing demographic and economic pressures. Intensive care unit (ICU) patients are highly variable in response ...