How does media exposure influence young girls' sexuality?
(2017)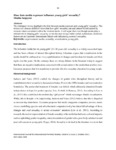 View/Open
Publisher
Project Monma Research Centre
ISSN
2463-2945
Abstract
This literature review highlights the link between media exposure and young girls' sexuality. The review will discuss different views that how girls' sexuality can and cannot be influenced by western values circulated within the western media. I will argue that even though media play a critical role in shaping girls' sexuality its not the case always rather social, cultural and economic factors are an important determinant linked with influencing women's sexuality.
Keywords
empowerment; media; sexuality; sexualization; young girls
Rights
Creative Commons Attribution 4.0 International License.
Except where otherwise noted, this item's license is described as Creative Commons Attribution 4.0 International License.
Related items
Showing items related by title, author, creator and subject.
Landon-Lane, Corina

(

University of Canterbury

,

2017

)

Parenting programmes have been shown to be effective in reducing children's challenging behaviours and increasing parental use of positive behaviour strategies. However, it is difficult to find a brief group parenting ...

Hasan, Mohammad Mehedi

(

University of Canterbury

,

2021

)

This thesis examines youth engagement in sustainable planning for transport and green space in Dhaka city Bangladesh. Despite increasingly large numbers of young people living in urbanising areas in the Global South (Mayo, ...

Schroder, Ria Natalia

(

University of Canterbury. School of Educational Studies and Human Development

,

2003

)

Recent research on adolescent sexual intercourse has focused on attempts to identify factors that contribute to the onset of early sexual activity. To date, information generated from such research includes very little ...