Language pedagogy and non-transience in the flipped classroom.
(2016)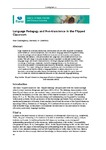 View/Open
Type of Content
Journal Article
ISSN
1173-5945
Abstract
High connectivity at tertiary institutions, and students who are often equipped with laptops and/or tablets as well as smartphones, have resulted in language learners being able to freely access technology and the internet. Reference tools such as dictionaries, concordancers, translators, and thesauri, with pronunciation and usage tips, are available at the touch of a screen. The web brings a virtually endless corpus of authentic written and spoken target language usage, and instant communication with target language speakers anywhere. Video recordings of teaching or materials created for language learners can be viewed and reviewed at the learner's convenience and reused by the teacher, freeing contact time for interaction. This paper distinguishes between asynchrony and non-transience and discusses which material can best be offered to language learners in tertiary education in a non-transient or enduring form rather than as live teaching, why this might be a good idea, and how to create and curate non-transient resources for individualised language learning.
Citation
Cunningham UM (2016). Language Pedagogy and Non-transience in the Flipped Classroom. Journal of Open, Flexible and Distance Learning. 20(1). 44-58.
This citation is automatically generated and may be unreliable. Use as a guide only.
Keywords
non-transient media; language teaching; language pedagogy; flipped classroom; language education
ANZSRC Fields of Research
20 - Language, Communication and Culture::2003 - Language Studies
13 - Education::1302 - Curriculum and Pedagogy::130202 - Curriculum and Pedagogy Theory and Development
Rights
Creative Commons Attribution-NonCommercial-NoDerivs 3.0 Unported License.