The changing agricultural geography of Southland, 1878-1940.
(1970)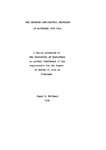 View/Open
Type of Content
Electronic Thesis or Dissertation
Thesis Discipline
Geography
Degree Name
Master of Arts
Publisher
University of Canterbury
Language
English
Collections
Abstract
The evolution of the agricultural system of Southland was a long-term process. It has roots that stretch back to Britain before the agricultural revolution and it has not yet ended. Indeed, it probably will never end because agricultural systems are dynamic entities. The aim of this work bas been to consider the manner in which the agricultural geography of Southland has reacted to the changes that have taken place in the profitability ot various forms ot agricultural production, the introduction of new types of agricultural technology, and the impact of new modes of transport.
Rights
All Rights Reserved