OGLE-2016-BLG-1003: First Resolved Caustic-crossing Binary-source Event Discovered by Second-generation Microlensing Surveys
(2017)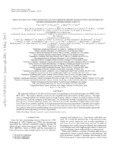 View/Open
Type of Content
Journal Article
ISSN
0004-637X
1538-4357
Collections
Authors
Jung YK,
Udalski A,
Bond IA,
Yee JC,
Gould A,
Han C,
Albrow MD,
Lee CU,
Kim SL,
Hwang KH,
Chung SJ,
Ryu YH,
Shin IG,
Zhu W,
Cha SM,
Kim DJ,
Lee Y,
Park BG,
Kim HW,
Pogge RW,
Skowron J,
Szymański MK,
Poleski R,
Mróz P,
Kozłowski S,
Pietrukowicz P,
Soszyński I,
Ulaczyk K,
Pawlak M,
Abe F,
Bennett DP,
Barry R,
Sumi T,
Asakura Y,
Bhattacharya A,
Donachie M,
Fukui A,
Hirao Y,
Itow Y,
Koshimoto N,
Li MCA,
Ling CH,
Masuda K,
Matsubara Y,
Muraki Y,
Nagakane M,
Rattenbury NJ,
Evans P,
Sharan A,
Sullivan DJ,
Suzuki D,
Tristram PJ,
Yamada T,
Yamada T,
Yonehara A
show all
Abstract
We report the analysis of the first resolved caustic-crossing binary-source microlensing event OGLE-2016-BLG-1003. The event is densely covered by the round-the-clock observations of three surveys. The light curve is characterized by two nested caustic-crossing features, which is unusual for typical caustic-crossing perturbations. From the modeling of the light curve, we find that the anomaly is produced by a binary source passing over a caustic formed by a binary lens. The result proves the importance of high-cadence and continuous observations, and the capability of second-generation microlensing experiments to identify such complex perturbations that are previously unknown. However, the result also raises the issues of the limitations of current analysis techniques for understanding lens systems beyond two masses and of determining the appropriate multiband observing strategy of survey experiments.
Citation
Jung YK, Udalski A, Bond IA, Yee JC, Gould A, Han C, Albrow MD, Lee CU, Kim SL, Hwang KH, Chung SJ, Ryu YH, Shin IG, Zhu W, Cha SM, Kim DJ, Lee Y, Park BG, Kim HW, Pogge RW, Skowron J, Szymański MK, Poleski R, Mróz P, Kozłowski S, Pietrukowicz P, Soszyński I, Ulaczyk K, Pawlak M, Abe F, Bennett DP, Barry R, Sumi T, Asakura Y, Bhattacharya A, Donachie M, Fukui A, Hirao Y, Itow Y, Koshimoto N, Li MCA, Ling CH, Masuda K, Matsubara Y, Muraki Y, Nagakane M, Rattenbury NJ, Evans P, Sharan A, Sullivan DJ, Suzuki D, Tristram PJ, Yamada T, Yamada T, Yonehara A (2017). OGLE-2016-BLG-1003: First Resolved Caustic-crossing Binary-source Event Discovered by Second-generation Microlensing Surveys. Astrophysical Journal. 841(2).
This citation is automatically generated and may be unreliable. Use as a guide only.
Keywords
binaries: general; gravitational lensing: micro
ANZSRC Fields of Research
02 - Physical Sciences::0201 - Astronomical and Space Sciences