An overview of the history of Antarctic Krill research in the Southern Ocean in particular Euphausia Superba, and suggested directions for future research
(2005)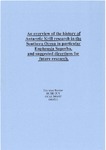 View/Open
Type of Content
Theses / Dissertations
Thesis Discipline
Science
Degree Name
Postgraduate Certificate in Antarctic Studies
Publisher
University of Canterbury
Language
English
Collections
Abstract
The food web in the Southern Ocean is unique among ocean systems in that it is characterised by the dependence largely of a single key species, the Antarctic Krill Euphausia Superba, (Faranda, 1995). Because E. Superba depend on the sea ice during their life cycle (Priddle 1988), it is important to gain an understanding of the effects of global Warming on Sea ice and therefore its impact on the whole Antarctic ecosystem. Climate change is expected to have a profound influence on the Southern Ocean and therefore on the Ross Sea and its biodiversity. According to Kerry and Hempel (1990), in the next few thousand years the world will probable warm due to the greenhouse effect. They suggest that research is needed on the effects on organisms of rapid changes of the Antarctic ecosystem There is a renewed interest in reviewing and advancing the existing knowledge of the Ross Sea biodiversity to evaluate the vulnerability of the Ross Sea and therefore provide better management. "The lack of knowledge of the biodiversity of the Ross Sea is creating significant management difficulties." (Waterhouse 2001). "Although considerable data exist for the southern ocean, comparatively little information has been collected in the marine environment of the Ross Sea region' (Waterhouse 2001). Existing information on the biodiversity of the Ross Sea is scattered widely both here in New Zealand and internationally. The literature on the Southern Ocean Zooplankton is dominated by studies on E. Superba the Antarctic krill, because of its large biomass, ecological importance and resource potential, (Knox 1983). Because krill has a central role in the Antarctic marine food web, this report will, review the history of krill research (in particular E. Superba), highlight current research being carried out and suggest directions for future research.
Rights
All Rights Reserved
Related items
Showing items related by title, author, creator and subject.
Jones, Belinda

(

University of Canterbury

,

2009

)

Antarctic krill or Euphausia superba is considered as a central component to the Antarctic food web. It has been written that different parts of the marine ecosystem are made up of predators that rely directly or indirectly ...

Taylor, Sam

(

University of Canterbury

,

2007

)

The Southern Ocean is a highly productive ecosystem that supports large populations of whales, seals, birds and fish and plankton. It is also one of the largest marine ecosystems on earth, covering approximately 36 million ...

Temminghoff, Maria

(

University of Canterbury

,

2007

)

The word "krill" comes from the Norwegian language and means "whale food". There are over 80 known krill species. In this review I will concentrate on the most common one which is Euphausia superba. Krill in the Euphausiidae ...