Krill in an increasingly valuable commodity that has untapped biomass in the Southern Ocean. A review of biomass considerations when setting fishing quotas will be detailed taking into account other significant food web species such as the Antarctic silverfish.
(2009)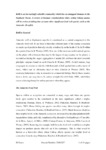 View/Open
Type of Content
Theses / Dissertations
Thesis Discipline
Science
Degree Name
Postgraduate Certificate in Antarctic Studies
Publisher
University of Canterbury
Language
English
Collections
Abstract
Antarctic krill or Euphausia superba is considered as a central component to the Antarctic food web. It has been written that different parts of the marine ecosystem are made up of predators that rely directly or indirectly on the heath of the krill within the system (Gascón & Werner, 2005). It is one of the most successful animal species on the plant, with a biomass that may be the largest of any creature on the planet, is recorded as having the largest aggregation of marine life and have the most powerful prteolytic enzymes found on earth (Gascón & Werner, 2005). As krill mature, they congregate in swarms or schools, with thousands of krill packed into a cubic metre of water, which can be kilometres deep or wide (Gascón & Werner, 2005). This swarming behaviour is what is attractive to commercial fishing. Mostly these swarms form at depth, and only rise to the surface at night (Nicol & Endo, 1999), which then causes a feeding frenzy for surface predators when they appear.
Rights
All Rights Reserved
Related items
Showing items related by title, author, creator and subject.
Taylor, Sam

(

University of Canterbury

,

2007

)

The Southern Ocean is a highly productive ecosystem that supports large populations of whales, seals, birds and fish and plankton. It is also one of the largest marine ecosystems on earth, covering approximately 36 million ...

Lowe, Sarah

;

Pope, Belinda

;

Poirot, Ceisha

;

Green, Vanessa

;

Henderson, Scott

(

2002

)

At the start of the new millennium, fisheries statistics reported that around 70 % of the world's fisheries were severely overexploited (Crothers, 1998). After centuries Of fishing in local coastal waters, an eventual ...

Guy, Ruth

(

University of Canterbury

,

2005

)

The food web in the Southern Ocean is unique among ocean systems in that it is characterised by the dependence largely of a single key species, the Antarctic Krill Euphausia Superba, (Faranda, 1995). Because E. Superba ...