Commissioning, initial testing and results from an experimental one kilowatt organic Rankine cycle
(2014)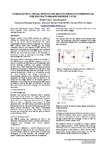 View/Open
Type of Content
Conference Contributions - Other
Collections
Abstract
Organic Rankine Cycle (ORC) systems are capable of utilising low-enthalpy heat sources to generate power. The aim of the Above Ground Geothermal and Allied Technologies (AGGAT) research programme is to develop ORC systems within New Zealand. For the design, component selection and operation of ORC systems, it is important to understand process parameters and component behaviour. An experimental scale ORC system, known as ORC-B, has been built and tested at the University of Canterbury to assist in furthering our knowledge of ORC system design and construction. This paper presents experimental results from running a 1 kW ORC-B system using HFC-M1 refrigerant, a zeotropic mixture of R245fa and R365mfc as the working fluid under several operating conditions. Hot exhaust combustion products from a 30kW CapstoneTM Gas Turbine are used as the heat source and heat is transferred via a thermal oil loop to the working fluid through a plate heat exchanger. A scroll expander magnetically coupled to an AC generator is used for work extraction and energy conversion. A thermodynamic analysis of the component performance is undertaken, factoring in several practical aspects of the system and its design. Details on the applied aspects of obtaining accurate results from an experimental ORC system are included, such as the effect of restriction to the flow path, heat losses, pump motor slippage and measurement uncertainty.
Citation
Southon M, Krumdieck S (2014). Commissioning, initial testing and results from an experimental one kilowatt organic Rankine cycle. Auckland, New Zealand: 36th New Zealand Geothermal Workshop (NZGW). 24/11/2014-26/11/2014.
This citation is automatically generated and may be unreliable. Use as a guide only.
Keywords
Experimental Organic Rankine Cycle; ORC; scroll expander; power generation from waste heat; Zeotropic mixture; M1
ANZSRC Fields of Research
09 - Engineering::0906 - Electrical and Electronic Engineering::090607 - Power and Energy Systems Engineering (excl. Renewable Power)
09 - Engineering::0913 - Mechanical Engineering::091305 - Energy Generation, Conversion and Storage Engineering