Design and Build of a 1 Kilowatt Organic Rankine Cycle Power Generator
(2013)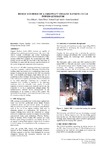 View/Open
Type of Content
Conference Contributions - Other
Collections
Authors
Meyer D,
Wong CS,
Engle F,
Krumdieck S
show all
Abstract
Organic Rankine Cycle (ORC) systems are capable of utilising low-enthalpy geothermal sources. The aim of the Above Ground Geothermal and Allied Technologies (AGGAT) research programme is the development of ORC systems within New Zealand. An experimental scale ORC system, known as ORC-B, was built at the University of Canterbury to assist with the research and development of the system design and component selection process. The unit is a 1 kW ORC consisting of four key components: evaporator, expander, condenser and pump. Selection of the working fluid was found to be a constraining factor in the design. A refrigerant mix known as HFC-M1 was selected due to its desirable performance, high safety and ease of availability in New Zealand. The heat source for the system is the exhaust of a Capstone gas turbine. Heat is transferred to the unit's plate-type evaporator by a thermal oil extraction loop. Cooling is supplied to the plate-type condenser from the available water supply. A scroll expander is used to extract work from the system and the evaporator is fed by a high-pressure plunger pump. The instrumentation selected allows measurement of the performance of the system as well as PID control. The system has been designed and constructed and is now ready for commissioning and testing.
Citation
Meyer D, Wong CS, Engle F, Krumdieck S (2013). Design and Build of a 1 Kilowatt Organic Rankine Cycle Power Generator. Rotorua, New Zealand: 35th New Zealand Geothermal Workshop (NZGW). 18/11/2013-21/11/2013.
This citation is automatically generated and may be unreliable. Use as a guide only.
Keywords
Organic Rankine Cycle; Power Generation; Energy System; Design; Build
ANZSRC Fields of Research
09 - Engineering::0906 - Electrical and Electronic Engineering::090608 - Renewable Power and Energy Systems Engineering (excl. Solar Cells)
09 - Engineering::0913 - Mechanical Engineering::091305 - Energy Generation, Conversion and Storage Engineering