On the number of rational points on special families of curves over function fields
(2016)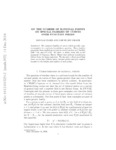 View/Open
Type of Content
Reports
Abstract
We construct families of curves which provide counterexamples for a uniform boundedness question. These families generalize those studied previously by several authors. We show, in detail, what fails in the argument of Caporaso, Harris, Mazur that uniform boundedness follows from the Lang conjecture. We also give a direct proof that these curves have finitely many rational points and give explicit bounds for the heights and number of such points.
Citation
Ulmer D, Voloch JF On the number of rational points on special families of curves over function fields.
This citation is automatically generated and may be unreliable. Use as a guide only.
ANZSRC Fields of Research
01 - Mathematical Sciences::0101 - Pure Mathematics::010101 - Algebra and Number Theory