Macroprudential tools and monetary policy interactions in New Zealand
(2016)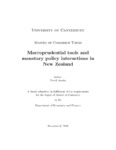 View/Open
Type of Content
Theses / Dissertations
Thesis Discipline
Economics
Degree Name
Master of Commerce
Publisher
University of Canterbury
Language
English
Collections
Abstract
This thesis constructs a DSGE model of the New Zealand economy based on Iacoviello (2005). Its key innovation is the introduction of an investor property sector that allows consideration of the loan-to-value (LVR) restrictions that the Reserve Bank of New Zealand (RBNZ) recently implemented. These tools were employed in order to mitigate the risks associated with highly leveraged investors with multiple exposures to the housing market.
With the introduction of an investor sector, both patient and impatient households are given the choice between owning and renting property. This decision is affected by house prices relative to rental prices, the expected capital gains for home ownership, and any LVR restrictions that the impatient households may face. By contrast, property investors are assumed to have the choice between investing in capital or investing in housing. This model therefore shows the impact of the trade off between investing in housing and investing in capital on other variables in the economy.
The model shows that LVR restrictions work to stabilise output in the event of a monetary policy or housing preference shock. In addition, the presence of LVR restrictions affects the distribution of housing to different agents in the economy. Although risk is not explicitly modelled in this framework, this suggests LVR restrictions may increase financial stability by encouraging greater activity in the housing market from less risky agents (such as patient households in this framework).
Rights
All Rights Reserved