Engineering Geology Education for the 21st Century
(2015)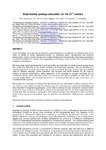 View/Open
Type of Content
Conference Contributions - Other
Publisher
University of Canterbury. Geological Sciences
Collections
Authors
Villeneuve, M.C.,
Zimmer, V.L.,
Eggers, M.J.,
Bell, D.H.,
Davies, T.R.,
Pettinga, J.R.
show all
Abstract
A sound background in geology is necessary if geomechanics is to address the changing face of the Earth as shown by recent geohazard events, by continued urban, infrastructure and resource development, and by climate change both in New Zealand and internationally. Engineering geologists provide this background in nearly every engineering consultancy, resource extraction and government institution in Australasia.
We have used recent developments in post-secondary geo-education to create a learning experience that meets the demands of the modern professional engineering geologist. We are developing a revised programme of study that makes use of online and block learning, accommodating a societal need for distance learning. Online interaction with lecturers and fellow students will be used for delivery of subject fundamentals, while application of the concepts to practical examples will be undertaken during short, intensive blocks. This structure will require students to both learn and prepare independently, and increase the amount of experiential learning through project work and involvement with industry.
We present four teaching and assessment techniques that are well suited to delivery through online and block formats, while ensuring that students gain the technical and professional knowledge and skills expected of engineering geologists. Online lecture delivery through interactive podcasts allows students to study the lecture material at a distance, but we stress that this must be coupled with face-to-face time. We use field work, group work and problem solving to allow students to reach the higher levels of learning technical material, such as synthesis and evaluation, while gaining professional skills.
Citation
Villeneuve, M.C., Zimmer, V.L., Eggers, M.J., Bell, D.H., Davies, T.R., Pettinga, J.R. (2015) Engineering Geology Education for the 21st Century. Wellington, New Zealand: Australia New Zealand Geomechanics Conference, 22-25 Feb 2015.
This citation is automatically generated and may be unreliable. Use as a guide only.
Keywords
tertiary education; learning outcomes; professional development
ANZSRC Fields of Research
04 - Earth Sciences::0403 - Geology
13 - Education::1301 - Education Systems::130103 - Higher Education
13 - Education::1302 - Curriculum and Pedagogy::130212 - Science, Technology and Engineering Curriculum and Pedagogy