Where is Craft located? : conversations about work, home and history : an ethnography with artisans in Telangana, India.
(2016)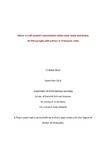 Type of Content
Electronic Thesis or Dissertation
Thesis Discipline
Anthropology
Degree Name
Doctor of Philosophy
Publisher
University of Canterbury
Language
English
Collections
Abstract
This thesis is based on ethnographic fieldwork with a family of artisans in the Telangana state of southern India, who are skilled at crafting the region's style of murals, masks and figurines and etiological scrolls. Specifically, centred on the question, 'where can one locate craft?' the following ethnography situates as its point of departure existing scholarship which construct the different epistemological sites within which Craft as a category emerges. By dwelling upon narratives of practitioners about the organization of everyday life around the practice, and the history of the familial studio, this dissertation attempts to read the critical language which practitioners assemble together in order to negotiate with these epistemic frames.
Effectively my doctoral dissertation looks at the way in which the practice of craft is not located within a defined universe of internally organized meanings and relationships waiting to be explored by the anthropologist. This project is in fact a step towards exploring the language within which practice, and the histories and artefacts which it fashions, emerge. The language could be derived from collective memory which have been inscribed by the geographical, temporal, metaphysical and philosophical terrains which rules of a practice trace. The language is generated within the way in which the artisan experiences the relationship between materials and tools, and the way in which this experience is historicized. The language could be appropriated and reproduced through imaginations of self and personhood, articulated through the way in which relations between kin are constructed and deconstructed in craft practices. The language emerges as practitioners, in an attempt to express desire for the nation-state, dismantle, interrogate and re-narrate the fixity and actuality of heritage and regional belongingness. The language evolves with the way in which the practitioners have come to co-author the way in which conditions of material realities of production, consumption and circulation that have altered within a global market.
This dissertation warrants the abandonment of a privileged site or absolute centre where the practice of craft can be located. Rather it proposes a certain reading of craft, namely as a network everyday practices, relationships and language within which artisans situate themselves to express their capacity to imagine and act on those possibilities.
Rights
All Rights Reserved