Imagining India as a spiritual place: life-journeys of western spiritual practitioners in Pondicherry.
(2016)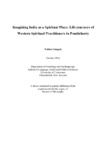 View/Open
Type of Content
Theses / Dissertations
Thesis Discipline
Anthropology
Degree Name
Doctor of Philosophy
Publisher
University of Canterbury
Language
English
Collections
Abstract
This thesis is a critical engagement with the ways in which India continues to be constructed as a spiritual place in global imaginaries and transnational discourses of spirituality. Ground in ethnographic fieldwork among primarily North American and Western European spiritual practitioners settled in India, specifically Pondicherry, home to Sri Aurobindo ashram, this research situates their relocation to India within the historical-political trajectories which have constructed the trope, "spiritual India".
The expatriate spiritual practitioners' narratives of relocating to India offer an antimodernist critique of technological and industrial progress in Western society which, they believe, has led to the destruction of nature, culture, and religion. At the same time, they create India as the site of invoking nostalgia for a premodern lost past of ancient spirituality. This thesis argues and demonstrates that their antimodernism as a response of and to the discontents of modernity is in fact thoroughly modern, albeit exemplifying an alternative modernity. This argument is based on the following: First, the alternative in the form of supposedly premodern India is in itself a modern creation available in the here-and-now due to colonialism, Orientalism, and Indian nationalism (including teachings of religious leaders or gurus). Second, while there is a strong anticonsumerist stance in expatriate spiritual practitioners' narratives, the romantic turn toward other faiths represents a different kind of consumerism. Third, the alternative proposed is not a return to the glorious past, rather, it is a forward looking vision, following the model of biological evolutionism, in which the modern "ethic of authenticity" finds its full fruition by reconnecting the individual to a divinised world of interconnected authentic selves. Drawing on cross-disciplinary perspectives from Sociology, Anthropology, and Religious Studies on issues of transnational movement of people, global political asymmetries, and modernity, this research contributes to the understanding of spatial and identitarian politics in a global world.
Rights
All Rights Reserved
Related items
Showing items related by title, author, creator and subject.
Maidment, J.

;

Milner, V.

(

University of Canterbury. School of Language, Social and Political Sciences

,

2007

)

The following contribution is written as a series of letters which reflect the process of email communication between the two authors. While this genre is not one normally used in an academic journal, for the purpose of ...

Moffat-Wood, Alex

(

University of Canterbury

,

2011

)

As a comparatively unknown space, the Antarctic has provided centuries of writers with the opportunity to tell stories involving 'otherly presences' – spirits, ghosts, and aliens. This review examines eleven texts, ...

El-shorbagy, Abdel-moniem M.

(

University of Canterbury. Art History

,

2001

)

This thesis examines the career of the Egyptian architect, Hassan Fathy (1900-1989). Part one deals with Fathy's biography. It contains an account of his family background, his childhood and education, the influences of ...