Impacts of volcanic ash on surface transportation networks : considerations for Auckland City, New Zealand.
(2016)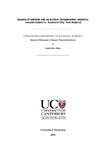 Type of Content
Theses / Dissertations
Thesis Discipline
Disaster Risk and Resilience
Degree Name
Doctor of Philosophy
Publisher
University of Canterbury
Language
English
Collections
Abstract
Volcanic eruptions can cause a variety of impacts on critical infrastructure through a multitude of accompanying hazards. Impacts from volcanic ash can be highly disruptive, widespread and longlasting, with substantial consequences for society. With a growing worldwide population and associated expansion of complex critical infrastructure networks in volcanically active areas, volcanic risk assessments are more important than ever. However, there are many challenges, particularly as research developments in the discipline are relatively recent; many opportunities for improved understanding remain. Transportation is arguably the most crucial type of critical infrastructure during volcanic eruptions as it may be required for a variety of response and recovery activities, including the maintenance and restoration of all other critical infrastructure. In long-lasting eruptions, people may live with volcanic ash for months to years and use transportation networks affected by ash on a daily basis. Although there are many observations of surface transportation impacts following previous eruptions, vulnerability data has been largely qualitative and there has been a lack of reliable quantitative data, particularly to assess network functionality. Advancing our understanding of volcanic ash vulnerability will enhance management strategies and improve the resilience of transportation networks.
This thesis provides quantitative empirical results for vulnerability assessments of volcanic ash impacts on surface transportation, primarily through laboratory experimentation under controlled conditions that investigate three key impact types: 1) skid resistance on ash-covered roads and airfields, 2) road marking coverage by volcanic ash, and 3) visibility in airborne volcanic ash. Surface transportation functionality for thin (mm-cm) ash deposits forms the primary focus of this research due to limited existing knowledge, and as thin deposits often cover extensive areas and are readily re-suspended with potential repeated disruption. Various ash characteristics (e.g. thickness, particle size, soluble components, and ash wetness) are investigated in laboratory studies to assess the implications of different hazard intensity metrics on surface transportation functionality, with a focus on the transportation network in Auckland, New Zealand. Laboratory findings are used to identify thresholds for particular impacts, which are subsequently used to refine existing, and propose new, fragility functions for surface transportation and volcanic ash. Recommendations for clean-up and other mitigation measures to deal with volcanic ash on surface transportation networks are also suggested. Finally, new and previous impact findings are applied to a scenario focused on a hypothetical eruption in the Auckland Volcanic Field, New Zealand. Here, Level-of-Service metrics are developed to describe the disruption encountered by transportation end-users when networks are affected by volcanic ash, effectively providing a measure of transportation vulnerability. Overall, the findings of the thesis allow improvements to future volcanic impact and risk assessments and guide the development of resilient transportation infrastructure in volcanically active areas.
Rights
All Rights Reserved