Bullying the boss : upwards bullying as a response to destructive supervisory leadership in the workplace.
(2009)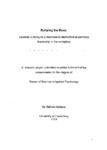 View/Open
Type of Content
Theses / Dissertations
Thesis Discipline
Psychology
Degree Name
Master of Science
Publisher
University of Canterbury
Language
English
Collections
Abstract
Despite a growing acknowledgement of the negative outcomes for organizational functioning and the health and well-being of individuals attributable to workplace bullying, research into the phenomenon of upward bullying (supervisors bullied by their subordinates), particularly its aetiology, has received modest attention. The aim of the present study was to explore the link between destructive supervisory leadership and upward bullying and the mediating or moderating roles of perceived interactional justice, continuance commitment and workrelated meaning in this relationship. Two hundred and eight post-graduate students and two hundred and four work-based subordinate employees completed an on-line survey of their perceptions of the leadership style and interactional justice of their immediate supervisor, the levels of their own continuance commitment and work-related meaning, and the frequency with which they engaged in specific bullying behaviours targeting their supervisor. As expected, subordinate perceptions of destructive supervisory leadership were strongly associated with an increased incidence of upward bullying, with the strength of this relationship partially mediated by subordinate perceptions of interactional justice within supervisory interactions. In addition, subordinate levels of continuance commitment and work-related meaning moderated the relationship between subordinate perceptions of interactional justice and the incidence of upward bullying, such that this relationship was intensified when either, or both the level of subordinate continuance commitment or work-related meaning was higher. This paper offers preliminary support for conceptualizing upwards bullying as a retaliatory response to destructive leadership, however due to a reliance on cross-sectional data, inferences of causality cannot be made. Practical implications and directions for future research are discussed.
Rights
All Rights Reserved