An ethnographic case study of the linguistic landscape of an award-winning Māori immersion early childhood education centre
(2016)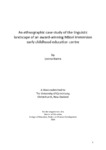 Type of Content
Theses / Dissertations
Thesis Discipline
Education
Degree Name
Master of Education
Publisher
University of Canterbury
Language
English
Abstract
The linguistic landscape is the visibility and salience of any given language within a geographically defined area (Landry & Bourhis, 1997). It reflects the strength of the language policy, and influences how languages are perceived and therefore used (Cenoz & Gorter 2006). Increasing the visibility of te reo Māori in New Zealand is a national policy, to honour the Treaty of Waitangi and to contribute to the revitalisation and normalisation of the threatened language. Early childhood education is viewed as one of the cornerstones of the revitalisation of te reo Māori in New Zealand, therefore the visibility of te reo Māori in an early childhood centre is of significance to study. This research was conducted in an award-winning Māori immersion early childhood centre and included the environments of the centre, the home and online, creating a language ecology. The aim was to describe and understand the policies and practices of language and technology use in each environment, and then to understand how those environments interacted. Photos were taken of the displays and semi-structured interviews were conducted with the Head of Centre, teachers and parents. The findings showed that the linguistic landscape served a greater function than just indicating vitality, policy and use. There were unseen processes that were occurring, aimed at strengthening wellbeing, achievement, togetherness, tikanga, normalisation, identity, and belonging. The linguistic landscape was a visual representation of the processes occurring that strengthened the needs of the people, through the interactions between the environments within the language ecology. Interactions between the environments strengthened and supported the normalisation of te reo Māori as an oral language, both within and beyond the centre.
Rights
All Rights Reserved
Related items
Showing items related by title, author, creator and subject.
Harris L

;

Cunningham U

;

Davis N

(

2018

)

'Linguistic landscapes' is the term used to describe all the visible language in signs and displays seen in particular areas such as a local street and, more recently, educational spaces (Gorter, 2017; Landry and Bourhis, 1997).

Harris L

;

Davis N

;

Cunningham U

;

de Vocht L

;

Macfarlane S

;

Gregory N

;

Aukuso S

;

Ova Taleni T

;

Dobson J

(

2018

)

© 2018, MDPI AG. All rights reserved. Potentially addictive behaviours supported by the internet and mobile phones raise concerns in education services for early childhood. Although there is evidence that screen media can ...