The decomposition of woolscour and fellmongery sludges
(1998)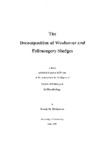 View/Open
Type of Content
Theses / Dissertations
Thesis Discipline
Microbiology
Degree Name
Doctor of Philosophy
Publisher
University of Canterbury
Language
English
Collections
Abstract
This thesis investigated two industrial sludges, a woolscour sludge and a fellmongery sludge. The sludges represent material removed during the clarification of effluent arising, respectively, from the washing of greasy wool and the dehairing of sheepskins for leather manufacture. The aims of the study were to (i) determine the degree to which the wool scour and fellmongery sludges decompose, (ii) to describe the probable constraints upon sludge decomposition and (iii) to assess the likely consequences of sludge decomposition in a soil system.
Most experiments were performed at a microcosm scale. The extent to which the woolscour and fellmongery sludges decomposed and the constraints upon their decomposition were determined using net-N mineralisation. An assessment of the consequences of sludge decomposition included leachable mineral N and an estimation of the amount of microbial biomass (MB) in sludge-amended soils. The MB was estimated using the fumigation-extraction method.
Wool scour sludge mineralised only 9 % of its initial total N (i-TN) during decomposition at 22°C, however N mineralisation increased dramatically to 40 % i-TN when the sludge was incubated at 50 DC. Fellmongery sludge mineralised 52 % i-TN at 22°C, but showed no net-N mineralisation at 43 or 50°C. When the sludges were decomposed in an anaerobic atmosphere, the fellmongery sludge mineralised only 15 % i-TN after 108 days. Anaerobic conditions did not greatly affect the decomposition of woolscour sludge, which mineralised 5 % i-TN in 108 days. It is suggested that different pools of the soil MB were involved in the decomposition of the wool scour sludge and the fellmongery sludge.
One of the consequences of the rapid decomposition of fellmongery sludge was the leaching of water-soluble mineral N. During the decomposition of surface-applied fellmongery sludge (at a rate equivalent to 350 kg N ha-¹) to leaching columns (5-cm x 15-cm height), 25 to 39 % of the applied N was leached as mineral N in 100 days. Most of the mineral N leached was present as nitrate (68 to 93 %), which exceeded 10 mg nitrate L-1 of leachate for 45 to 80 days.
The amendment of soil with wool scour and fellmongery sludge, at a rate equivalent to 200-kg N ha-¹ and incubated in microcosms, caused a dramatic decrease in the MB, such that the level of MB was below detection using the fumigation-extraction technique after a year of soil incubation. When soil was amended with wool scour and fellmongery sludges in the field and the soil sampled ten months post-amendment, the MB had also decreased, although the effect was weaker than that seen in the microcosm study. In addition, less N was mineralised from wool scour and fellmongery sludges decomposing in their respective sludge-amended soil, than when decomposed in nonamended soils. Together, these results indicate that the application of woolscour and fellmongery sludges to soil has the potential to significantly impede nutrient cycling through the reduction of microbial function.
Fellmongery sludge showed inconsistent results for its value as a fertiliser. On the one hand, fellmongery sludge-amended soil that had been heavily leached for 105 days prior to ryegrass seeds being planted, produced significantly more grass (165 mg (dry weight; dw)) than from the non-amended, leached control soil (106 mg (dw)), after 50 days of grass growth. The enhancement of grass growth was seen more strongly when already established ryegrass received a fresh application of fellmongery sludge, at a rate equivalent to 350-kg N ha-¹. In 20 days of grass growth, the amended soil produced 375 mg (dw) of ryegrass, whereas the non-amended soil produced 103 mg (dw). These results indicated that fellmongery sludge could provide nutrients that promoted the growth of ryegrass. However, on the other hand, ryegrass harvested from fellmongery sludge-amended soil was enriched with nitrate (5.9 % of the TN was nitrate for grass grown on the amended-soil but only 1.5 % from non-amended soil). The ryegrass growing on the soil re-amended with the fellmongery sludge all died after the 20 days harvest, whereas the grass on the non-amended columns continued to grow. In addition, cucumber seeds failed to germinate in the presence of fresh fellmongery sludge.
Two case studies were carried out concurrently with this research. In the first, it was found that the long-term practice (> 15 years) of burying excess woolscour sludge in soil had decreased the MB-N of wool scour waste-amended soil from 4.0 % to 1.4 % of soil N. In the second case study, it was found that mixtures of woolscouring and fell mongering wastes that had received 90 days of composting treatment were unsuitable media in which to grow cucumber seedlings, which indicated that the composting treatment of these wastes had been unsuccessful. The unsuccessful formation of compost during these trials was considered to be due, mainly, to technical problems.
Rights
All Rights Reserved
Related items
Showing items related by title, author, creator and subject.
Walker, David Howey

(

University of Canterbury. Chemical and Process Engineering

,

2008

)

This Technology in Industry Fellowship (TIF) funded Masters Project was structured around Computational Fluid Dynamics (CFD) modelling for Lemar Environmental Ltd (Lemar). This study is a component of a larger programme ...

Pokhrel S

;

Milke M

;

Bello Mendoza R

(

2018

)

Pokhrel, Shiv Prasad

(

University of Canterbury

,

2019

)

Waste activated sludge (WAS) derived from municipal wastewater treatment plant contains relatively high amounts of P and is a potential source of recoverable P. Phosphorus release into the aqueous phase is an important ...