Assessment of individual trees using aerial laser scanning in New Zealand radiata pine forests.
(2016)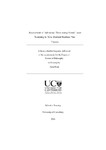 View/Open
Type of Content
Theses / Dissertations
Thesis Discipline
Forestry
Degree Name
Doctor of Philosophy
Publisher
University of Canterbury
Language
English
Collections
Abstract
Forest managers aim to maximise the productivity, profitability, health, and sustainability of New Zealand's plantation forests. There is an increasing need for high quality information about forest stands to support effective management. This is exemplified in the concept of precision forestry, which maps variation at a fine scale to allow targeted management, and in the concept of tree-level phenotyping, which quantifies the genetic and environmental drivers of tree growth. Remotely sensed data, in particular airborne laser scanning (ALS), was identified as having strong potential to provide tree level information to assist in attaining the goals of phenotyping and precision forestry. Tree-based, rather than area-based, analyses of ALS were identified as being essential to separate and quantify genetic and environmental factors on individual tree growth, and therefore critical to the development of novel phenotyping methods supporting precision forestry. The aim of this study was therefore to develop methods to characterise individual trees using remotely sensed airborne laser scanning data. The research was focussed on evaluating the utility of ALS data to estimate key operationally relevant tree attributes for New Zealand plantation-grown radiata pine. Review of the literature identified three key research questions within which to frame the study. The first research question addressed the need to obtain accurate estimates of tree size, form, wood quality and disease attributes from ALS. A set of 36 individual tree crown metrics were derived from ALS data and evaluated for their correlations with ground measurements of the attributes. The second research question was aimed at evaluating the utility of tree-level ALS data in the analysis of genetic and environmental variance components and the estimation of genetic parameters, including genetic gains. The third research question evaluated the effects of ALS pulse density on estimates obtained from tree-level analyses of ALS data. Strong correlations were established between morphological crown metrics and tree size attributes (r=0.90, 0.82, and 0.84 for H, DBH and V respectively), but not for tree form and wood quality attributes. A moderate correlation (r=0.50) with the level of Dothistroma infection was attributed to the effect of the disease on tree growth, indicating potential for disease phenotyping using remote sensing. Accurate estimates of variance components and genetic parameters were obtained from ALS for tree size attributes, but not for tree form, wood quality and disease attributes. For H, DBH, and V crown-based versus ground-based estimates of narrow sense heritabilities were within 5.0%, 19.5% and 23.9%, and estimates of genetic gains (96 tree selection level) were within 19%, 25%, and 25% respectively. Manually corrected tree segmentations were found to provide negligible improvements to correlations and estimates of genetic parameters, supporting the operational use of automated methods. Exponential reductions in tree detection accuracy, correlations, and estimates of genetic parameters were observed with reducing pulse density. A minimum pulse density of 6 Pu.m2 was recommended for tree-based analysis of ALS in New Zealand radiata pine stands, and results indicated exponential increases in pulse density will be required to significantly improve estimates. This study has successfully addressed the research questions and produced important findings regarding tree-based analysis of remotely sensed ALS data. Morphological crown metrics have been derived, representing allometric relationships, which are therefore are expected to have general utility in estimating tree size attributes. Novel features of this research included: the wide range of operationally relevant tree attributes including tree size, form, wood quality and disease; quantification of genetic and environmental factors from ALS; comparison of the effects of automated and manually corrected tree delineations; and the quantification of the effects of pulse density on tree-based analyses. This research provides significant findings in support of the use of remotely sensed ALS data for phenotyping trees in genetics and research trials, and the development precision forestry methods, nationally and internationally.