Challenges facing Educators with regard to Gender and Sexuality Diverse Students
(2016)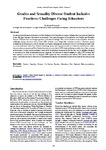 Type of Content
Journal Article
Publisher
University of Canterbury, College of Education, Health and Human Development
ISSN
2463-4417
Collections
Abstract
Inclusivity is at the heart of education in New Zealand and is founded on the key principle that every student deserves to feel like they belong in the school environment. One important aspect of inclusion is how Gender and Sexuality Diverse (GSD) students are being supported in educational settings. This critical literature review identified three key challenges facing educators that prevent GSD students from being fully included at school. Teachers require professional development in order to discuss GSD topics, bullying and harassment of GSD individuals are dealt with on an as-needs basis rather than address underlying issues, and a pervasive culture of heteronormativity both within educational environments and New Zealand society all contribute to GSD students feeling excluded from their learning environments. A clear recommendation drawn from the literature examined is that the best way to instigate change is to use schools for their fundamental purpose: learning. Schools need to learn strategies to make GSD students feel safe, teachers need to learn how to integrate GSD topics into their curriculum and address GSD issues within the school, and students need to learn how to understand the gender and sexuality diverse environments they are growing up in.
Rights
Creative Commons Attribution 4.0 International License.
Except where otherwise noted, this item's license is described as Creative Commons Attribution 4.0 International License.
Related items
Showing items related by title, author, creator and subject.
Marshall, Esther

(

University of Canterbury

,

2018

)

Social inequalities in society are being filtered down into education, limiting the possibility for inclusion, equity, and celebration of diversity for all students (Bolstad, Gilbert, McDowall, 2012). One area of inclusion ...

Schroder, Ria Natalia

(

University of Canterbury. School of Educational Studies and Human Development

,

2003

)

Recent research on adolescent sexual intercourse has focused on attempts to identify factors that contribute to the onset of early sexual activity. To date, information generated from such research includes very little ...

Ahmed, Idris

;

Jacob, Ogunode Niyi

(

Project Monma Research Centre

,

2021

)