Exploring the use of strategies to support Solution Focused Brief Therapy (SFBT) to enhance engagement with adolescent males: one counsellor's experience.
(2016)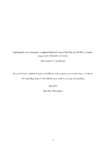 Type of Content
Theses / Dissertations
Thesis Discipline
Counselling
Degree Name
Master of Counselling
Publisher
University of Canterbury
Language
English
Collections
Abstract
This thesis seeks to examine how young men, at a New Zealand single sex high school, engage with strategies and tools offered to support solution focused brief therapy (SFBT). A qualitative case study research approach is used. The context of this study is the counselling service of a high school where young men are aged between 13 and 18 years of age. These are often turbulent years for teenagers and high school presents its own challenges irrespective of those faced at home or in other contexts. The counselling they are offered uses a solution-focused approach where the purpose is to encourage clients to create their own preferred future and strategies for achieving this. The aim of this study is to help the young men engage and gain benefit from their counselling. Students were invited to volunteer to be part of this study. The four selected presented with reasons for coming to counselling similar to those of students typically seeking counselling (work/study and relationship issues). Each participant consented to engage in solution-focused counselling where the counsellor used a range of kinaesthetic and visual tools to assist in the counselling process. Counselling sessions were videoed and analysed with specific focus on client engagement. Four key findings emerged. Firstly, the use of SFBT tools and strategies produced increased verbal interaction (i.e. more talking); secondly a range of non-verbal expressions including changes in body language were displayed as signs of engagement; thirdly the clarification of goal/s through visual/practical scales evoked positive talk and ownership over the student's future; and finally self-reflection by the researcher on the impact of each counselling session produced positive and improved outcomes on the researcher's own counselling practice.
Rights
All Rights Reserved
Related items
Showing items related by title, author, creator and subject.
Shanks, Kate

(

University of Canterbury

,

2016

)

In Western society, adolescence is a period of major transition from child to adult. While there are different views about the chronological age of adolescence, there are agreements across research that young people have ...

Riley, Liz

(

University of Canterbury. School of Health Sciences

,

2014

)

On a particularly balmy Christchurch evening in March 2012, I attended a parent information evening for my son at his school. As he was embarking on his first year of the National Certificate of Educational Achievement, ...

Griffiths, Jude

(

University of Canterbury

,

2020

)

Young adolescents are experiencing high rates of mental health issues worldwide (World Health Organization, 2019). In Aotearoa New Zealand, counselling in a school setting is available to support the young adolescents who ...