Teaching parents functional behaviour assessment to implement within their home with their children.
(2016)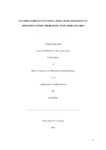 View/Open
Type of Content
Theses / Dissertations
Thesis Discipline
Health Sciences
Degree Name
Master of Science
Publisher
University of Canterbury
Language
English
Collections
Abstract
Problem behaviour is the most common reason why parents seek assistance of professional mental health services. Children who continue to engage in problem behaviour past typical development trajectories are at greater risk of developing enduring behavioural, social and academic difficulties and can place distress on the entire family system. Functional behaviour assessment (FBA) is a process which provides an explanation why problem behaviour is present and what purpose or function this behaviour serves the child. Thus, information gathered by the FBA processes is used to inform the choice of intervention. The present study developed and then taught, via two-two hour workshops, a brief parent training programme, the Parent Empowering Programme (PEP) on functional behaviour assessment and positive behaviour support strategies to a group of five participants in a group setting. Three participants then implemented PEP in their home with one of their children during a problematic home routine. The results showed that these parents were able to learn functional behaviour assessment skills and implement a small function-based intervention plan with some success in their own home. Social validity results indicated that the PEP was socially acceptable. Limitations in terms of parent data collection is discussed along with suggestions for future research.
Rights
All Rights Reserved
Related items
Showing items related by title, author, creator and subject.
Monk, Katelyn

(

University of Canterbury

,

2017

)

Most young children will present at some time with problematic or challenging behaviours. However, some challenging behaviours can exceed what is considered developmentally appropriate and become established in the child's ...

Knight, Jacqueline

(

University of Canterbury

,

2017

)

Sleep problems, including co-sleeping, are highly prevalent in children with autism spectrum disorder (ASD). Given the negative secondary effects associated with sleep problems, it is essential that effective treatments ...

Busch, Caitlin Chelsea

(

University of Canterbury

,

2019

)

Sleep disturbance is recognized in the literature as a highly prevalent feature of Rare Genetic Neurodevelopmental Disorders (RGND) in children. Despite the considerable number of studies that have reported the presence ...