The transformation of xenoestrogenic prenylated flavonoids from hop (Humulus lupulus) inflorescences during the beer brewing process.
(2016)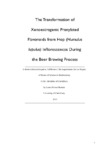 Type of Content
Theses / Dissertations
Thesis Discipline
Biochemistry
Degree Name
Master of Science
Publisher
University of Canterbury
Language
English
Collections
Abstract
Hops contain many prenylated flavonoids, some of which are estrogenic, i.e. they mimic the female sex hormone 17β-estradiol. Being exposed to excess estrogenic compounds (estrogens) is problematic to health by causing developmental disorders. For example, genital abnormalities and augmentation of breast cancer. The most potent phytoestrogen known is 8-prenylnaringenin and is present in hops and beer. In addition, xanthohumol and isoxanthohumol can be transformed by the gut microflora into 8-prenylnaringenin, increasing the estrogenic potential of hops. Studies have shown that during the beer brewing process the concentration of the prenylated flavonoids decrease from start to finish, but there have been no studies carried out on an industrial scale. Therefore, an analysis of the fate of the potential estrogens during the beer brewing process on an industrial scale in the present project was carried out. The findings show that the beer brewing process causes these compounds to decrease in concentration during the brewing process and that xanthohumol isomerises into isoxanthohumol. Also, beer contains compounds that have the potential to be estrogenic, but the concentration of these are far less than what would cause a detrimental health affect in humans. Lastly, analysis was difficult due to their low concentrations found in beer and this is why a method using chemiluminescence was carried out with the aim of improving the analysis.
Rights
All Rights Reserved