Metal contamination in streams in three New Zealand cities, the effects on benthic communities and the accumulation in a New Zealand mayfly.
(2016)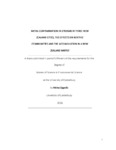 Type of Content
Theses / Dissertations
Thesis Discipline
Environmental Sciences
Degree Name
Master of Science
Publisher
University of Canterbury
Language
English
Collections
Abstract
Increasing urbanisation places pressure on the ecological integrity of streams in many towns and cities. Stormwater running over impervious surfaces carry contaminants into the receiving waterways and heavy metals are one of the main contaminants in stormwater. They are of concern because of their ubiquitness, toxicity, and persistance in the environment. There is limited literature in New Zealand on the metal contamination in urban streams and comparing different regions. Councils undertake monitoring programmes of their respective urban streams, however the monitoring and reporting process differs between urban centres. This study investigated the metal contamination and effects on the benthic invertebrate community in three major urban centres in New Zealand; Auckland, Christchurch, and Wellington. Dissolved copper was the only metal (out of both the sediment and water) to be significantly different between cities, with concentrations in Christchurch being lower. Generally, copper (Cu), lead (Pb), and zinc (Zn) were the most common metals to exceed ANZECC guidelines. Chromium (Cr) and cadmium (Cd) were also identified as metals to potentially be of concern in the future. Sediment metal concentration largely increased together, however, significant relationships between water and sediment concentrations were not common. A smaller sediment size fraction of < 63μm had significantly higher concentrations for arsenic (As), Cu, and Zn. The benthic invertebrate communities found in this study were similar to those found in literature, where diversity is decreased and pollution tolerant taxa are common. The Wellington benthic invertebrate communities were significantly different to both Auckland and Christchurch, exemplified by an NMDS and biotic indices. The biotic indices indicated better stream health for Wellington. A sediment metal index created from a principal component analysis was found to be a common predictor for the generalised linear models of the biotic indices, both for the whole dataset and the individual cities. However, the contribution of the sediment metal index was relatively low. This study also investigated the accumulation of Cu and Zn, both as single metal species and as a mixture, by the Deleatidium spp. mayfly. Exposures were performed for both spiked water and spiked biofilm, to compare accumulation through water and diet. Concentrations of Cu in the water and for contaminating biofilm were 0, 1.4, 5, 80, 300, and 1000 μg L⁻¹. Mayfly Cu concentrations significantly increased at the 80 μg L⁻¹ treatment in both the water and biofilm exposure. The biofilm exposure significantly increased at the higher treatments, however, the water exposure did not. Concentrations of Zn treatments were 0, 8,50, 150, 1500, and 5000 μg L⁻¹. There were no significant changes in Zn accumulation in the mayflies for either the biofilm or water exposures. The Cu and Zn mixture produced the same results as the single metal species experiments. This indicates that Zn may be better regulated than Cu and that diet may be more important in accumulation of Cu. The results of this thesis indicate that metal contamination is relatively consistent across different urban areas in New Zealand and that sediment metal concentrations may be more useful for monitoring than water concentrations. The exposures suggest that studies should continue to investigate the accumulation of different metals through diet and water exposures, as Cu and Zn showed contrasting results.
Rights
All Rights Reserved