Bringing the dead to life : identification, interpretation, and display of Chinese burial objects in the Rewi Alley collection at Canterbury Museum.
(2016)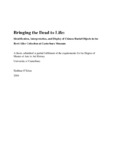 View/Open
Type of Content
Theses / Dissertations
Thesis Discipline
Art History
Degree Name
Master of Arts
Publisher
University of Canterbury
Language
English
Collections
Abstract
This thesis presents a study of how museums collect and display burial objects. In particular, it focuses on objects which had been buried with the dead. The case studies which constitute the starting point for this inquiry are Chinese burial objects from the Han Dynasty (206 B.C.-220 A.D.) of the Rewi Alley Collection at Canterbury Museum. In the tomb, Chinese burial objects had a primarily religious purpose, and were intended for the use and appreciation of the dead only. However, they are known in the 'West' on account of their having been unearthed, transported, and placed in new cultural contexts, such as on display in museums for contemplation by living audiences. This creates many ontological complexities for the objects, and in this study I address some of the issues which arise as a result of their display in the new cultural context of the museum, and discuss in what ways the objects, as cultural and material entities, acquire new identities and meanings. In particular, I interrogate curatorial practices around the interpretation and display of such objects, and the museological assumptions upon which these rest.
Rights
All Rights Reserved
Related items
Showing items related by title, author, creator and subject.
O'Brien, Leanne

(

University of Canterbury. Biological Sciences

,

2005

)

The Canterbury mudfish (Neochanna burrowsius; Galaxiidae) is a small, acutely threatened freshwater fish endemic to South Island, New Zealand, which has traits related to its historic occurrence in the wetlands of the ...

Washbourne, Rose

(

University of Canterbury. Classics

,

1998

)

This thesis proposes that objects from funerary contexts in Early Bronze Age Cyprus were expressions of belief in a continuation of some form of life for the deceased. In reference to this, the author argues that these ...

O'Brien, Graham James

(

University of Canterbury. Plant and Microbial Sciences

,

1996

)

Colicins and microcins are proteinaceous antimicrobial agents produced by members of the Enterobacteriaceae which are active against other members of this family. Colicin24 is a novel bacteriocin produced by a uropathogenic ...