Predicting and preventing aspiration pneumonia in patients with acute stroke and dysphagia.
(2016)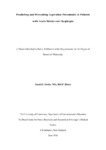 View/Open
Type of Content
Theses / Dissertations
Thesis Discipline
Speech and Language Sciences
Degree Name
Doctor of Philosophy
Publisher
University of Canterbury
Language
English
Collections
Abstract
Patients with dysphagia following acute stroke are at increased risk of developing aspiration pneumonia, which leads to increased morbidity and mortality. Silent aspiration is a leading cause of aspiration pneumonia, but is notoriously difficult to identify by standard clinical swallowing examination. Adjunctive tests, such as cough reflex testing, have been evaluated as a means of increasing sensitivity of clinical assessment. Historically, diurnal variation in cough sensitivity has been considered a major confounding variable that is controlled for by testing at the same time each day. Study I investigated whether such variation exists when the tidal-breathing method – commonly used in clinical assessment – is used to measure cough reflex sensitivity. Fifty-three young, healthy participants underwent cough reflex threshold testing on two occasions: once in the morning (between 9am – 12pm) and once in the afternoon (between 2 – 5pm). Oral bacteria levels were controlled for by participants' brushing their teeth immediately prior to testing. There was no evidence of diurnal variability in cough reflex sensitivity, with morning cough thresholds (Χ̃ = 0.4 mol/L) not significantly different from afternoon cough thresholds (Χ̃ = 0.4 mol/L), 𝑝> .05. Regardless of time of day, first cough thresholds (Χ̃ = 0.3 mol/L) were lower than second cough thresholds (Χ̃ = 0.5 mol/L), 𝑝< .01, raising the question of reproducibility of cough reflex testing; an issue which warrants further investigation. Previous reports evaluating the effectiveness of cough reflex in acute clinical settings have provided mixed results. This has prompted careful consideration of how cough reflex testing should be translated into clinical routine and the development of a standardised management pathway. In Study II, pneumonia-related outcomes were measured from 284 patients with acute stroke who were managed according to a Dysphagia in Stroke Protocol (DiSP). The DiSP guided clinical decision-making regarding oral intake based on clinical assessment with cough reflex testing and videofluoroscopic swallowing study (VFSS). Outcomes were compared to an historical cohort of 148 patients who were managed with cough reflex testing and VFSS in the absence of a prescriptive protocol. The rate of aspiration pneumonia was significantly lower among protocol-managed patients (10 %) compared to control patients (28 %). The odds of developing aspiration pneumonia were 3.24 times higher if no protocol was used. Although no differences in mortality were observed between the DiSP and control groups, patients in the DiSP group were more likely to be referred for a VFSS, spent significantly fewer days in hospital (24 days versus 32 days; 𝑝< .001) and were more likely to be on a normal diet at three months poststroke compared to control patients. These data support the use of cough reflex testing when incorporated into a dysphagia management protocol. Patients with acute stroke and dysphagia are also at increased risk for colonisation by potential respiratory pathogens, which, if aspirated, have been linked to the development of aspiration pneumonia. There is evidence to support a relationship between oral hygiene and reflexive cough sensitivity in the elderly, but this relationship is poorly understood. To characterise this relationship, 102 patients with acute stroke and dysphagia underwent saliva sampling and cough reflex threshold testing at three time points: on admission to hospital, at discharge from the acute stroke ward and at one month post-stroke. In addition, patients' medical notes were reviewed for symptoms of aspiration pneumonia. Molecular testing was used to measure the prevalence of pathogenic bacteria in saliva samples. No relationships between cough reflex sensitivity, oral bacteria levels and aspiration pneumonia were found; however, results were limited by low statistical power. A non-significant trend for bacteria levels to increase following admission to hospital was observed, which warrants further investigation. This programme of research has contributed to the field of speech-language therapy by providing the first report of the effectiveness of the DiSP in reducing the incidence of aspiration pneumonia among patients with acute post-stroke dysphagia, as well as identifying future research directions for studies of oral bacteria in this population. Finally, this research has contributed to the growing body of knowledge regarding cough reflex testing methodology.
Rights
All Rights Reserved