Tree representations of non-symmetric group-valued proximities
(1999)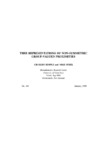 Type of Content
Discussion / Working Papers
Publisher
University of Canterbury
ISSN
1172-8531
Authors
Semple, Charles
Steel, M.
show all
Abstract
Let X be a finite set and let d be a function from X x X into an arbitrary group Q. An example of such a function arises by taking a tree T whose vertices include X, assigning two elements of Q to each edge of T ( one for each orientation of the edge), and setting d(i,j) equal to the product of the elements along the directed path from i to j. We characterize conditions when an arbitrary function d can be represented in this way, and show how such a representation may be explicitly constructed. We also describe the extent to which the underlying tree and the edge weightings are unique in such a representation. These results generalize a recent theorem involving undirected edge assignments by an Abelian group. The non-Abelian bi-directed case is of particular relevance to phylogeny reconstruction in molecular biology.
ANZSRC Fields of Research
49 - Mathematical sciences::4901 - Applied mathematics::490102 - Biological mathematics
Rights
All Rights Reserved
Related items
Showing items related by title, author, creator and subject.
Francis A

;

Semple C

;

Steel M

(

2017

)

Phylogenetic networks are a type of directed acyclic graph that represent how a set X of present-day species are descended from a common ancestor by processes of speciation and reticulate evolution. In the absence of ...

Semple, Charles

;

Steel, M. A.

(

University of Canterbury

,

2002

)

Given a tree T with leaf set X, there are certain ways of arranging the elements of X in a circular order so that T can be embedded in the plane and 'preserve' this ordering. We investigate some new combinatorial ...

Semple, Charles

;

Steel, M. A.

(

University of Canterbury

,

1999

)

A fundamental problem in biological classification is the reconstruction of phylogenetic trees for a set X of species from a collection of either subtrees or qualitative characters. This task is equivalent to tree ...