Tree representations of non-symmetric group-valued proximities
(1999)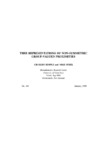 Type of Content
Discussion / Working Papers
Publisher
University of Canterbury
ISSN
1172-8531
Authors
Semple, Charles
Steel, M.
show all
Abstract
Let X be a finite set and let d be a function from X x X into an arbitrary group Q. An example of such a function arises by taking a tree T whose vertices include X, assigning two elements of Q to each edge of T ( one for each orientation of the edge), and setting d(i,j) equal to the product of the elements along the directed path from i to j. We characterize conditions when an arbitrary function d can be represented in this way, and show how such a representation may be explicitly constructed. We also describe the extent to which the underlying tree and the edge weightings are unique in such a representation. These results generalize a recent theorem involving undirected edge assignments by an Abelian group. The non-Abelian bi-directed case is of particular relevance to phylogeny reconstruction in molecular biology.
ANZSRC Fields of Research
49 - Mathematical sciences::4901 - Applied mathematics::490102 - Biological mathematics
Rights
All Rights Reserved
Related items
Showing items related by title, author, creator and subject.
Francis A

;

Semple C

;

Steel M

(

2017

)

Phylogenetic networks are a type of directed acyclic graph that represent how a set X of present-day species are descended from a common ancestor by processes of speciation and reticulate evolution. In the absence of ...

Binny RN

;

Law R

;

Plank MJ

(

Elsevier BV

,

2020

)

Herd formation in animal populations, for example to escape a predator or coordinate feeding, is a widespread phenomenon. Understanding which interactions between individual animals are important for generating such emergent ...

Van Iersel, L.

;

Semple, C.

;

Steel, M.

(

University of Canterbury. Dept. of Mathematics and Statistics

,

2009

)

The complex pattern of presence and absence of many genes across different species provides tantalising clues as to how genes evolved through the processes of gene genesis, gene loss and lateral gene transfer (LGT). The ...