Approaching the altar : art, agency and appreciation at the Cathedral of the Blessed Sacrament, Christchurch.
(2016)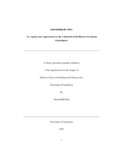 View/Open
Type of Content
Theses / Dissertations
Thesis Discipline
Art History
Degree Name
Master of Arts
Publisher
University of Canterbury
Language
English
Collections
Abstract
This thesis examines the three high altars used successively in Cathedral of the Blessed Sacrament, Christchurch: a wooden altar transferred from the earlier procathedral in 1905; a large marble altar made by Giuseppe Cassioli, a Florentine painter and sculptor, installed in 1916; and a modern altar of reconstituted stone designed by the architect Miles Warren, which replaced the Cassioli altar in 1974. The architectural and liturgical contexts of the altars is discussed. Giuseppe Cassioli is now completely unknown in New Zealand art history, despite his contemporary reputation and significant commissions in Europe and elsewhere. The thesis argues that his careful use of a wide range of sources, his technical skills, and his concern that his works were appropriate in their settings are features of his oeuvre. These can all be seen in his Christchurch altar. Although praised in 1916 the altar was mocked prior to its removal. This has contributed to the current neglect of the artist and his work in New Zealand. The grounds on which it was derided during the re-ordering of the cathedral are also examined. A number of traditional art historical approaches are applied to the altars. Their iconography, style, form, authorship, artistic merit and reception/appreciation are investigated where appropriate using a taxonomic framework. They are examined chronologically and relevant issues of patronage and personality are acknowledged in the narrative, as are recent interdisciplinary "approaches". A range of previously unknown archival materials are used throughout.
Rights
All Rights Reserved