Using distraction to reduce venepuncture pain and distress in school aged children : the role of the parents', nurses' and the child's voice: a review of the literature.
(2015)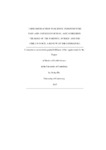 View/Open
Type of Content
Theses / Dissertations
Thesis Discipline
Health Sciences
Degree Name
Master of Health Sciences
Publisher
University of Canterbury
Language
English
Collections
Abstract
Venepuncture is reported by children as the most feared aspect of attending hospital. A minor, yet painful, procedure that has been associated with increased levels of distress in children. Distraction, a cognitive-behavioural approach is used as an adjunct to pharmacological methods of pain management in attempt to lower levels of venepuncture pain and distress. This literature review examines the efficacy of distraction strategies and also examines the role of parents' and nurses' in distraction. In addition, factors that influence and hinder the use of distraction will be examined. A significant gap that emerged from the literature was in relation to the child's voice. Nurses should view patient choice as an integral part of decision making for choosing appropriate distraction techniques.
Rights
All Rights Reserved
Related items
Showing items related by title, author, creator and subject.
Gray, Alice

(

University of Canterbury

,

2015

)

This literature review investigates a possible theory-practice gap within Family-Centred Care in children's nursing. The investigation into this theory-practice gap was conducted by critically examining primary research ...

Loh, Yin Yin

(

University of Canterbury

,

2016

)

Behavioural problems, such as defiance and aggression, are the most common problems presented by children in mental health services. Intervention in these problems, however, failed to develop clinically significant changes ...

Perry, Gretchen

(

MDPI AG

,

2021

)

Children rely on support from parental helpers (alloparents), perhaps especially in high-needs contexts. Considerable evidence indicates that closer relatives and maternal relatives are the most likely to provide this care, ...