New Zealand and the Asia-Europe Meeting: Three Years On
(2013)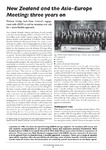 View/Open
Type of Content
Journal Article
Publisher
University of Canterbury. National Centre for Research on Europe
Collections
Abstract
New Zealand, alongside Australia and Russia, formally acceded to the Asia–Europe Meeting (ASEM) in October 2010. This followed fifteen years of drift, a period during which initial strong interest, derailed by the opposition of Malaysian Prime Minister Mahathir Mohamad, subsequently became less certain as views of the forum's utility to New Zealand dimmed. In effect, by the turn of the millennium, the issue of ASEM membership had been kicked into the long grass, where the Ministry of Foreign Affairs and Trade was happy for it to remain until it became clear in mid- 2008 that Australia was pushing strongly for entry and was likely to succeed. This move had wrong-footed MFAT, forcing a rapid rethink of a policy that had rested, among other elements, on a view that New Zealand's non-membership was acceptable given Australia's parallel exclusion. The final volte face and scramble for membership was therefore motivated in large part by a fear of marginalisation, a concern that Australian entry would leave New Zealand in the untenable situation of being the only regional state outside the forum.1 Three years on, it is worth considering where New Zealand stands in relation to ASEM. Given its less than wholehearted accession, what benefits does it perceive in participation, and to what extent have these been achieved?
Citation
Doidge, M. (2013) New Zealand and the Asia-Europe Meeting: Three Years On. New Zealand International Review, 38(6), pp. 17-19.
This citation is automatically generated and may be unreliable. Use as a guide only.
ANZSRC Fields of Research
35 - Commerce, management, tourism and services::3507 - Strategy, management and organisational behaviour::350706 - International business
14 - Economics::1402 - Applied Economics::140210 - International Economics and International Finance
Related items
Showing items related by title, author, creator and subject.
Reed WR

;

Qian X

;

Tian B

;

Chen Z

(

2018

)

This paper investigates profit-shifting behavior among multinational corporations (MNCs) in China. The authors exploit the flat-rate structure of China's corporate income tax, along with its system of targeted, preferential ...

Guender, A.V.

(

University of Canterbury. Department of Economics and Finance

,

2015

)

CPI inflation targeting necessitates a flexible exchange rate regime. This paper embeds an endogenous target rule into a simple open economy macro model to explain the UIP puzzle. The model predicts that the change in the ...

Koska OA

(

ZBW - German National Library of Economics

,

2019

)

© Author(s) 2019. This study shows that when there is multinational competition for foreign acquisition, the strategic use of a consumer welfare argument in regulating foreign market entry leads to a preemptive foreign ...