Dolce Cabot and the Canterbury Times "Ladies' page" : an examination of early New Zealand women's journalism.
(1998)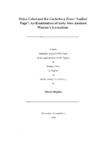 View/Open
Type of Content
Theses / Dissertations
Thesis Discipline
English
Degree Name
Master of Arts
Publisher
University of Canterbury
Language
English
Collections
Abstract
Women's media has been recognised in recent years as having a powerful influence in defining gender roles and structuring normative social behaviour. This influence was at no point more significant than in the late nineteenth-century when growing social ferment concerning the "Woman Question" combined with the dramatically expanding periodical press to produce a full-scale international women's media industry. Although in New Zealand such developments were not as expansive as in England and America, the women's media that were established in the 1890s to meet the needs of the "New Woman" were no less significant in structuring the evolving identity of the female population. Editor of the Canterbury Times "Ladies' Page" from May 1894 to October 1907, Dolce Ann Cabot played an important role in this process. As one of New Zealand's first female journalists, she endeavoured to provide a source of guidance and companionship for her readers while alerting them to the value and significance of the Women's Movement. A public supporter of the women's suffrage bill passed in September 1893, she was to evince a strong commitment to feminist objectives for the duration of her journalistic career. The purpose of this thesis is to examine the ways in which Cabot directs the processes of gender enculturation in the "Ladies' Page" and the contributions she makes to shaping the behaviour, values and ideals of New Zealand women. Within this framework particular _attention will be given to her feminist writing and to the ways in which she responds to the dialectic between tradition and modernity. The Canterbury Times "Ladies' Page" was not intended as a radical feminist publication but as a text for the general interest of all women, so it is therefore important to examine how Cabot negotiates the boundaries between radicalism and conservatism. Above all, this thesis seeks to bring to light the work of a woman who is a significant, though much neglected, figure in New Zealand feminist history.
Rights
All Rights Reserved