Vector-enabled metagenomic (VEM) surveys using whiteflies (Aleyrodidae) reveal novel begomovirus species in the New and Old Worlds
(2015)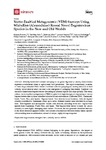 View/Open
Type of Content
Journal Articles
Publisher
University of Canterbury. Biological Sciences
University of Canterbury. Biomolecular Interaction Centre
Collections
Authors
Rosario, K.,
Seah, Y.M.,
Marr, C.,
Varsani, A.,
Kraberger, S.,
Stainton, D.,
Duffy, S.,
Breitbart, M.,
Moriones, E.,
Polston, J.E.
show all
Abstract
Whitefly-transmitted viruses belonging to the genus Begomovirus (family Geminiviridae) represent a substantial threat to agricultural food production. The rapid evolutionary potential of these single-stranded DNA viruses combined with the polyphagous feeding behavior of their whitefly vector (Bemisia tabaci) can lead to the emergence of damaging viral strains. Therefore, it is crucial to characterize begomoviruses circulating in different regions and crops globally. This study utilized vector-enabled metagenomics (VEM) coupled with high-throughput sequencing to survey begomoviruses directly from whiteflies collected in various locations (California (USA), Guatemala, Israel, Puerto Rico, and Spain). Begomoviruses were detected in all locations, with the highest diversity identified in Guatemala where up to seven different species were identified in a single field. Both bipartite and monopartite viruses were detected, including seven new begomovirus species from Guatemala, Puerto Rico, and Spain. This begomovirus survey extends the known diversity of these highly damaging plant viruses. However, the new genomes described here and in the recent literature appear to reflect the outcome of interactions between closely-related species, often resulting from recombination, instead of unique, highly divergent species.
Citation
Rosario, K., Seah, Y.M., Marr, C., Varsani, A., Kraberger, S., Stainton, D., Moriones, E. Polston, J.E., Duffy, S. and Breitbart, M. (2015) Vector-enabled metagenomic (VEM) surveys using whiteflies (Aleyrodidae) reveal novel begomovirus species in the New and Old Worlds. Viruses, 7, pp. 5553-5570.
This citation is automatically generated and may be unreliable. Use as a guide only.
Keywords
begomovirus; metagenomics; whitefly; vector; ssDNA
ANZSRC Fields of Research
06 - Biological Sciences