Pauanui and Whitianga : contrasts in second home development.
(1982)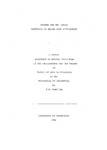 View/Open
Type of Content
Theses / Dissertations
Thesis Discipline
Geography
Degree Name
Master of Arts
Publisher
University of Canterbury
Language
English
Collections
Abstract
Traditionally, approaches to the study of the second home phenomenon, although making worthwhile contributions, have failed to appreciate the importance of, and influence that the preceding structuresandprocesses of development exert on all aspects of the resulting second home areas, and associated owners. This study compares and contrasts two different types of second home development (planned and spontaneous). It attempts to illustrate the. importance of the structures and processes of second home.development in influencing the type of resort that emerges, and the characteristics of the second· home owners. Pauanui and Whitianga, representing .planned and spontaneous resorts respectively, were surveyed. Contrasts were revealed in; the physical and social features; the characteristics of the second homes and their owners; the utilisation of the resort and environs; and the perceived image. These contrasts are viewed as a response to different sequences and structures and processes of development. The contrasting catalysts of development (the agents of development and the potential second home owners), provide the impetus for the emergence of two distinct types of second home resorts; The ongoing structures and processes of development of the planned and spontaneous second home resorts are considered disparate and self-perpetuating.
Rights
All Rights Reserved