Moment redistribution in prestressed concrete continuous beams.
(1966)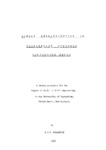 View/Open
Type of Content
Theses / Dissertations
Thesis Discipline
Civil Engineering
Degree Name
Doctor of Philosophy
Publisher
University of Canterbury
Language
English
Collections
Abstract
This thesis is concerned with the redistribution properties of continuous prestressed concrete structures, in particular, symmetrical two-span prismatic beams symmetrically loaded with one point load per span. The behaviour of these beams is studied both theoretically and experimentally up to the stage of first crushing of the concrete. A compatibility approach is used to predict the theoretical moment-load and load-deflection behaviour, and very good agreement between theoretical curves and the experimental values was found. The utilization of a compatibility approach was made possible by the formulation of accurate moment-curvature relationships for pre- stressed concrete sections. A theory is advanced that considers variations of curvature between cracks caused by concrete tension. The experimental studies also included tests on single span pre-stressed concrete beams in order to compare the experimental and theoretical moment-curvature curves. Close agreement between experiment and the proposed theory was found.