New Zealand prime ministers and regional diplomacy
(2016)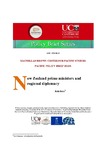 Type of Content
Reports
Publisher
MACMILLAN BROWN CENTRE FOR PACIFIC STUDIES
MACMILLAN BROWN CENTRE FOR PACIFIC STUDIES
ISSN
1172-3416
1172-3413
Collections
Alternative Title
PACIFIC POLICY BRIEF 2016/6
Abstract
New Zealand performs best globally as a progressive small state, with a deep internationalism central to our national identity. That is, being a good international citizen. Our prime ministers are the most important players projecting New Zealand globally. Global diplomacy is what prime ministers do to advance their government's foreign policy.
Rights
Creative Commons Attribution 4.0 International License.
Except where otherwise noted, this item's license is described as Creative Commons Attribution 4.0 International License.
Related items
Showing items related by title, author, creator and subject.
A recurrent theme in the literature on advisory groups is the belief that think tanks, policy-planning groups and advisory units of one sort or another invariably fail to fulfil their objectives and have only a limited ...

Powles, Michael

(

MACMILLAN BROWN CENTRE FOR PACIFIC STUDIESMACMILLAN BROWN CENTRE FOR PACIFIC STUDIES

,

2016

)

Most significant threats to security in the Pacific Islands region today are internal rather than external. One has only to look at the extraordinary situation today in Nauru, the governance issues in Papua New Guinea, the ...

Nischalke, Tobias I.

(

University of Canterbury. Political Science

,

2000

)

This study examines the alignment behaviour of ASEAN towards external parties between 1967 and 1999 with the goal of establishing which factors have been most important for determining patterns of cooperation and conflict ...