A characterisation of lava types and a story of pore growth and collapse at Santiaguito volcanic dome complex, Guatemala.
(2014)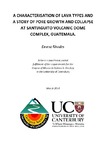 Type of Content
Theses / Dissertations
Thesis Discipline
Geology
Degree Name
Master of Science
Publisher
University of Canterbury
Language
English
Collections
Abstract
Structures and textures of lava dome lavas reflect underlying magmatic and eruptive processes. The composition, temperature, degassing and outgassing histories of these lavas determine the eruption style and associated hazards. Santiaguito Lava Dome, Guatemala shows unique lava sequences that respond to repeated eruption cycles primarily controlled by changing effusion rates. Four domes have extruded sequentially along a linear trend since 1922. In this thesis I map and classify the lithologies and macro- and micro-scale lava textures at Santiaguito, and relate these to shallow conduit and post-eruptive processes. These observations are further constrained using the historical eruption record to determine temporal relationships and changes in effusion rates between flow units. Using this data I produce a conceptual model for the different lava types, eruption cycles and associated hazards at Santiaguito. Four distinct lava morphologies are classified; "spines", "long blocky lava flows", "vesicular lava flows" and "summit blocky lava flows". These differ in both macro-scale lava features, and also in micro-scale porosity, permeability and pore textures. These textures indicate changing in-conduit and post-eruptive conditions. Spines are low volume and dense with deflated interconnected pores. Thinner vesicular zones periodically break up the dense zones with interconnected en-echelon sigmoidal pores. Spines occur at low effusion rates at the beginning and end of an eruption sequence, often initiating from a new vent at the start of a new sequence. Small gas explosions and near-continuous degassing accompany spine extrusion. Regular collapses generate small block and ash flows that reach the base of the dome, but spines have not been associated with larger block and ash flows at Santiaguito. Long blocky lava flows are high volume and have a wide porosity range. In general, more porous samples contain inflated interconnected pores which may be flattened or stretched, whereas denser samples contain deflated aligned tubular interconnected pores. Long blocky lava flows erupt at moderate to high effusion rates in the middle of eruption sequences. They are associated with associated with almost continuous degassing, small explosive eruptions and continuous small block and ash flows, as well as infrequent hazardous large block and ash flows. Vesicular lava flows are low volume and very porous with inflated interconnected pores. They are short-lived and erupt either at high effusion rates or when the conduit is shorter at the start of an eruption sequence. They are sometimes extruded following removal of summit material by dome or flow collapses. Summit blocky lava flows extrude in combination with long blocky lava flows during periods of fast extrusion in both andesitic and dacitic magma. However they are the only lava type observed during intermediate extrusion rates of dactic magma, and during slow extrusion rates of andesitic magma. They are associated with almost continuous degassing, small explosive eruptions and continuous small block and ash flows. Over its eruptive history, the dominant composition erupting from Santiaguito changed from dacite to andesite. However the microlite and phenocryst content of the magma does not vary by more than 5%. I interpret that spines form from higher viscosity dacitic magma at low effusion rates. Here, degassing, cooling and outgassing in the conduit prior to eruption increases the viscosity, while shear at the conduit edges generates vesicular cavitation bands, that easily fracture to form fault bounded spines. Long blocky lava flows and vesicular lava flows form from lower viscosity magmas. These are either andesites or dacites that erupt at higher effusion rates and so experience less degassing, outgassing and cooling prior to eruption. The high volume of the long lava flows allows the initially vesicular lava to retain heat and degass and outgass along discrete interconnected porous networks within the flows, while along-flow shear results in flattening and stretching of pore shapes down flow. Summit blocky lava flows are andesitic or dacitic and accompany long blocky lava flows at high extrusion rates as an overflow mechanism. Therefore they have the same properties as the longer lava flows, but do not flow as far due to their lower supply volume. At low extrusion rates, summit blocky lava flows are the only type of lava extruded if the magma is andesitic. This is due to the lower viscosity of the andesitic lava, and replaces the spine facies that is present for dacitic magmas at low extrusion rates. Three distinct kinds of eruption cycles are identifiable; a new dome cycle, an old dome dacite cycle and an old dome andesite cycle. The new dome cycle is characterised by initial partly endogenous growth of a new dome where pre-existing outgassing pathways do not exist. The old dome andesite and dacite cycles initiate from domes where there are pre-existing degassing pathways and therefore begin exogenously. Within each cycle, effusion rate, degassing, outgassing and temperature appear to be the dominant controls on the viscosity of the magma and hence the lava type extruded. This contrasts with other lava domes worldwide, where crystal content or composition have been implicated as primary controls on viscosity. The effects of degassing, outgassing and cooling can be seen within a single eruption cycle which begins with the slow extrusion of a degassed viscous spine, transitioning to lava flows of increasing length as extrusion rates increase. The end of an eruption cycle is marked by decreasing effusion rates, allowing degassed magma to again clog up the conduit and result in extrusion of spines. Ultimately, the eruption stops; and subsequent eruption cycles start from new vents. At any time a dome or lava collapse can modify the cycle and cause a vesicular lava flow to extrude. The findings from this study explain the association of large hazardous block and ash flows with long blocky lava flows. Here, volatiles are still available in the less-degassed magma to drive fragmentation in the event of lava flow collapse. In contrast, more-degassed facies such as spines are not associated with large block and ash flow events. Additionally, periods of long blocky lava flow extrusion present a significant lahar hazard, since they extend into the headwaters of major drainages and provide abundant loose material from frequent small block and ash flows at their flow fronts. This understanding of block and ash and lahar hazards has important implications for hazard recognition at lava domes worldwide.
Rights
All Rights Reserved