Evaluation of the University of Canterbury auditory-visual matrix sentence test.
(2016)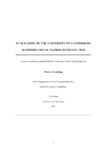 View/Open
Type of Content
Theses / Dissertations
Thesis Discipline
Audiology
Degree Name
Master of Audiology
Publisher
University of Canterbury
Language
English
Collections
Abstract
Speech recognition tests are an important tool in audiology, providing information regarding an individual's communication deficits beyond that revealed by the audiogram. With the aim of providing an accurate representation of such deficits faced in the real world, the University of Canterbury Auditory-Visual Matrix Sentence Test (UCAMST) was developed in New Zealand (NZ) English (O'Beirne, Trounson, McClelland, Jamaluddin, & Maclagan, 2015; Trounson, 2012). While international versions of this measure exist in various languages and dialects of English, in order to preserve the validity of the measure, development of a NZ English version was warranted. The current study sought to evaluate the lists generated for use in both the auditory and auditory-visual modalities to establish the equivalence of the lists and conditions of the UCAMST. Further, in order to determine whether the UCAMST sentence stimuli were in accord with international standards, evaluation across previous versions was conducted. Evaluation of the UCAMST stimuli with 42 participants with normal hearing (NH) revealed that while some of the lists were equivalent to one another, the conditions were not. Further, results showed the UCAMST to differ from international versions. These findings, while encouraging in part, require the attention of future research as equivalence is of critical importance in the ability to compare results across sessions and clinics. Overall, this research constituted one study in a series of many aimed at progressing the UCAMST towards implementation in the audiological test battery in NZ.
Rights
All Rights Reserved