Gender differences in occupational role conflict and psychological well-being, job satisfaction, job involvement and stress.
(1987)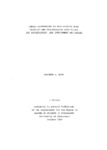 View/Open
Type of Content
Theses / Dissertations
Thesis Discipline
Psychology
Degree Name
Master of Science
Publisher
University of Canterbury
Language
English
Collections
Abstract
The study investigated gender differences in occupational role conflict and the effects on emotional and motivational aspects of occupational behaviour in the male-dominated occupation of law enforcement. Male and female police officers rated themselves and their colleagues on an occupational image rating scale. Three image ratings were obtained for each subject (a) self occupational image, (b) perceived occupational image, and (c) actual occupational image. The discrepancy between the self and perceived occupational images was used as an indicator of occupational role conflict. It was argued that due to the relatively recent inclusion of policewomen as generalist officers, male officers' predominantly negative attitudes towards female officers, and the 'masculine' image associated with the policing role; female police officers would experience greater role conflict than their male counterparts. Contrary to predictions, the results showed that female police officers did not experience greater role conflict than male officers. Furthermore, occupational role conflict did not correlate significantly with measures of psychological well-being, job satisfaction, job involvement or felt stress. Self and perceived occupational images were found to relate positively with one another. In addition, it was shown that, compared with male officers, female officers had more accurate perceptions of the views their counterparts held towards them. Gender differences in the self, perceived and actual occupational images were found. The results were discussed in the context of symbolic interactionism theory and the recent findings on occupational self-efficacy expectancies.
Rights
All Rights Reserved