Local scour at a bridge pier caused by flood waves : a report.
(1977)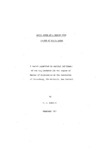 View/Open
Type of Content
Theses / Dissertations
Degree Name
Master of Engineering
Publisher
University of Canterbury
Language
English
Collections
Abstract
Results of an investigation (Walker (1975)) of scouring processes during the passage of a flood wave past a vertical cylinder are extended. Scour depths are measured visually on the cylinder. For waves producing clear water scour Walker's observations that: (i) The scour depth at any time is less than the steady state scour depth corresponding to the wave discharge at that time. (ii) That scouring continues after the wave peak are confirmed. An empirical method for predicting the final scour depth caused by a clear water flood wave.is proposed. Flood waves in which all flows were capable of causing bed motion showed no effect on the equilibrium scour depth existing before the wave passage. Long flood waves with initial clear water conditions and peak flows capable of causing bed motion would develop a scour hole depth corresponding to the equilibrium depth for steady flows with upstream bed motion. In such cases scouring can cease before the wave peak arrives. Recommendations for further research are made.