Comparison and evaluation of Tanzanian construction procedures.
(1988)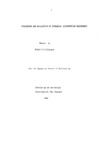 View/Open
Type of Content
Theses / Dissertations
Thesis Discipline
Civil Engineering
Degree Name
Master of Engineering
Publisher
University of Canterbury
Language
English
Collections
Abstract
This research describes the study into construction delays in building projects in Tanzania. The main objective was to determine the causes and extent of construction delays and cost overruns on building projects. The findings from this study were also compared with studies in New Zealand and Australia. Summary of the major factors influencing construction time delays and cost overruns were pointed out and possible solutions to these factors discussed with the aim of improving the performance of the building industry in Tanzania. The study was based mainly on 42 completed projects with an average value of TShs. 19.5 million per building. The study has shown that the average extra time overrun on specified building contract time exceeded 50% and that the average cost overrun on specified building contract cost exceeded 26%. The study cited poor economic conditions and management problems as the major factors which had attributed to the poor performance of the majority of the projects. These factors were also found to be common on the 30 ongoing projects and 14 abandoned projects included in this study.