The effect of prenatal methadone exposure on child adaptive behaviour and its association with caregivers parenting and general everyday stress
(2015)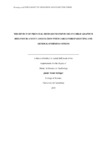 View/Open
Type of Content
Theses / Dissertations
Thesis Discipline
Psychology
Degree Name
Master of Science
Publisher
University of Canterbury
Language
English
Collections
Abstract
The current study is the first investigation of prenatal methadone exposure on adaptive behaviour in middle-school aged children, and the subsequent relationship with caregiver stress. A cross-sectional design was employed and participants were 27 caregivers of methadone-exposed (ME) children and 26 caregivers of non-exposed (NE) comparison children who completed a Maternal Health Interview and child questionnaires. Results showed that ME children were regarded by their caregivers as having significantly less adaptive behaviour skills overall, as well as poorer scores across the five domains of adaptive behaviour than NE children. Caregivers of ME children reported significantly higher scores on the Sources of Stress scale of general everyday stress than NE caregivers, whilst there were no significant differences between caregivers reports of parenting stress. After controlling for group and socio-economic status (SES) there was no significant relationship between child adaptive behaviour and caregiver general stress. In conclusion, the findings of the current study provide novel information into the research of adaptive behaviour in middle-school aged ME children and their caregivers stress levels. These findings pinpoint the need for the identification of children at-risk in their development of adaptive behaviour skills necessary for the adequate navigation of daily life. These findings also highlight the need for the development of further support systems for caregivers who have identified a lack of social support in their daily lives.
Rights
All Rights Reserved
Related items
Showing items related by title, author, creator and subject.
Quick, Zoe Louise

(

University of Canterbury. Psychology

,

2006

)

This study examined the effects of prenatal exposure to methadone on clinical and neurobehavioural outcomes of infants between 40 and 42 weeks gestation. The aims of this study were: (a) to describe clinical and neurobehavioural ...

Batcheler, Michael Charles

(

University of Canterbury

,

1989

)

Aspartame (Nutrasweet ®, APM) is a widely used artificial sweetener synthesised from aspartate and phenylalanine, both of which are freely available in the normal diet but known to exert toxic and teratogenic effects when ...

Loh, Yin Yin

(

University of Canterbury

,

2016

)

Behavioural problems, such as defiance and aggression, are the most common problems presented by children in mental health services. Intervention in these problems, however, failed to develop clinically significant changes ...