Sex differences in the ageing rat : the effect of caffeine and glucose, alone and combined, on olfactory memory.
(2015)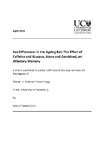 View/Open
Thesis Discipline
Psychology
Degree Name
Master of Science
Publisher
University of Canterbury. Psychology
Collections
Abstract
There is a reasonable body of evidence that caffeine can attenuate the memory deficits caused by Alzheimer's disease, ADHD and Parkinson's disease, as well as a variety of non-pathological causes such as ageing, fatigue, and substance use. Caffeine effects on memory in healthy individuals have been less consistent, and many studies have failed to isolate the effects of glucose (a known cognitive enhancer). In the current study, 119 middle-aged rats (61 males, 58 females) were tested in a novelty-related location preference paradigm which assessed the effects of caffeine (20mg/kg and 40mg/kg) and glucose (100mg/kg), alone and combined, on olfactory memory performance. The memory criterion was adjusted to accommodate a preference for familiarity rather than novelty, which was attributed to an attraction to self-produced odour. 12-month-old females displayed no memory retention, while 12-month-old males exhibited intact memory, and the administration of caffeine and/or glucose had no significant effect on memory performance. Sex differences were postulated to involve natural age-related decline of hormone levels. Additionally, ceiling effects may have limited the findings in males, as supported by a significant interaction between caffeine and glucose when assessed separately from saline. These findings warrant further research into the relationship between caffeine and glucose with methods that are more suited to intact subjects.
Keywords
Rats; Caffeine; Glucose; Sex; Memory; Olfactory; Odour preference; Age
Rights
Copyright Maria Therese Otto