Effects of Neurally Adjusted Ventilatory Assist (NAVA) Levels in Non-invasive Ventilated Patients: Titrating NAVA Levels with Electric Diaphragmatic Activity and Tidal Volume Matching
(2013)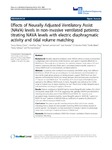 View/Open
Type of Content
Journal Article
Publisher
University of Canterbury. Mechanical Engineering
ISSN
1475-925X
Collections
Authors
Chiew, Y.S.,
Chase, J.G.,
Lambermont, B.,
Roeseler, J.,
Pretty, C.G.,
Bialais, E.,
Sottiaux, T.,
Desaive, T.
show all
Abstract
Background: Neurally adjusted ventilatory assist (NAVA) delivers pressure in proportion to diaphragm electrical activity (Eadi). However, each patient responds differently to NAVA levels. This study aims to examine the matching between tidal volume (Vt) and patients' inspiratory demand (Eadi), and to investigate patient-specific response to various NAVA levels in non-invasively ventilated patients. Methods: 12 patients were ventilated non-invasively with NAVA using three different NAVA levels. NAVA100 was set according to the manufacturer's recommendation to have similar peak airway pressure as during pressure support. NAVA level was then adjusted ±50% (NAVA50, NAVA150). Airway pressure, flow and Eadi were recorded for 15 minutes at each NAVA level. The matching of Vt and integral of Eadi (ʃEadi) were assessed at the different NAVA levels. A metric, Range90, was defined as the 5-95% range of Vt/ʃEadi ratio to assess matching for each NAVA level. Smaller Range90 values indicated better matching of supply to demand.
Citation
Chiew, Y.S., Chase, J.G., Lambermont, B., Roeseler, J., Pretty, C.G., Bialais, E., Sottiaux, T., Desaive, T. (2013) Effects of Neurally Adjusted Ventilatory Assist (NAVA) Levels in Non-invasive Ventilated Patients: Titrating NAVA Levels with Electric Diaphragmatic Activity and Tidal Volume Matching. BioMedical Engineering OnLine, 12, pp. 61.
This citation is automatically generated and may be unreliable. Use as a guide only.
Keywords
Mechanical ventilation; Non-invasive ventilation; Patient-ventilator interaction; NAVA
ANZSRC Fields of Research
40 - Engineering::4003 - Biomedical engineering::400303 - Biomechanical engineering
32 - Biomedical and clinical sciences::3202 - Clinical sciences::320212 - Intensive care