Integrative Approach to the Plant Commissioning Process
(2013)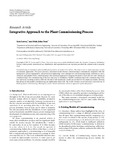 Type of Content
Journal Article
Publisher
University of Canterbury. Mechanical Engineering
Collections
Abstract
Commissioning is essential in plant-modification projects, yet tends to be ad hoc. The issue is not so much ignorance as lack of systematic approaches. This paper presents a structured model wherein commissioning is systematically integrated with risk management, project management, and production engineering. Three strategies for commissioning emerge, identified as direct, advanced, and parallel. Direct commissioning is the traditional approach of stopping the plant to insert the new unit. Advanced commissioning is the commissioning of the new unit prior to installation. Parallel commissioning is the commissioning of the new unit in its operating position, while the old unit is still operational. Results are reported for two plant case studies, showing that advanced and parallel commissioning can significantly reduce risk. The model presents a novel and more structured way of thinking about commissioning, allowing for a more critical examination of how to approach a particular project.
Citation
Lawry, K., Pons, D.J. (2013) Integrative Approach to the Plant Commissioning Process. Journal of Industrial Engineering, 2013(572072), pp. 1-12.
This citation is automatically generated and may be unreliable. Use as a guide only.
Keywords
Industrial engineering; commissioning; project management
ANZSRC Fields of Research
09 - Engineering