Elation Laguerre planes of order p2 that admit an automorphism group of order p2 in the elation complement
(1993)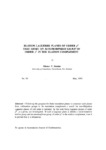 View/Open
Type of Content
Discussion / Working Papers
Degree Name
Research report
Publisher
University of Canterbury. Dept. of Mathematics
ISSN
0110-537X
Abstract
Following the program for finite translation planes to construct such planes from collineation groups in the translation complement a search for non-Miquelian Laguerre planes of odd order is initiated. In this note finite Laguerre planes of order p2, p a prime, are investigated. If such a Laguerre plane L, admits a circle-transitive elation group and an automorphism group of order p2 in the elation complement, then it is proved that L, is Miquelian.
ANZSRC Fields of Research
01 - Mathematical Sciences
Rights
Copyright Günter F. Steinke
Related items
Showing items related by title, author, creator and subject.
Steinke, Günter F.

(

University of Canterbury. Dept. of Mathematics

,

1997

)

This paper concerns 4-dimensional ( topological locally compact connected) elation Laguerre planes that admit large automorphism groups. In particular, it is shown that such a plane is classical if its automorphism group ...

G.F. Steinke

(

University of Canterbury. Mathematics and Statistics

,

2016

)