An arrangement of tablets for supporting collaborative learning.
(2015)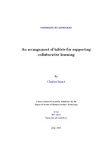 Type of Content
Theses / Dissertations
Thesis Discipline
Human Interface Technology
Degree Name
Master of Human Interface Technology
Publisher
University of Canterbury
Language
English
Collections
Abstract
This thesis details the design and implementation of a system that uses tablets to create a platform for co-located collaboration. Previous research has demonstrated the potential of touch tables for facilitating collaborative work, and this system seeks to create a similar working space and determine whether similar collaborative benefits can be achieved. An evaluation is carried out comparing the tablets system to a laptop and a touch table in terms of facilitating collaboration. The tablets system is shown to have similar collaborative potential to the touch table. This offers a cheaper, more accessible alternative to touch tables for facilitating computer-supported collaborative learning.