Large deformation properties of reconstituted Christchurch sand subjected to undrained cyclic torsional simple shear loading
(2015)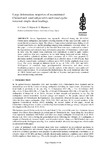 View/Open
Type of Content
Conference Contributions - Published
Publisher
University of Canterbury. Civil and Natural Resources Engineering
Collections
Authors
Chiaro, G.,
Kiyota, T.,
Miyamoto, H.
show all
Abstract
Severe liquefaction was repeatedly observed during the 2010 - 2011 C hristchurch earthquake s , particularly affecting deposits of fine sands and silty sands of recent fluvial or estuarine origin. The effects of liquefaction included major sliding of soil tow ard water bodies ( i.e. lateral spreading ) rang ing from centimetres to several metres. In this paper, a series of undrained cyclic torsional shear tests were conducted to evaluate the liquefaction and extremely large deformation properties of Christchurch b oiled sand . In these tests, the simple shear conditions were reproduced in order to apply realistic stress conditions that soil s experience in the field during horizontal seismic shaking. Several hollow cylindrical medium dense specimens ( D r = 50%) were pr epared by pluviation method, isotropically consolidated at an effective stress of 100 kPa and then cyclically sheared under undrained conditions up to 10 0% double amplitude shear strain (γ DA ) . The cyclic strength at different levels of γ DA of 7.5%, 15%, 3 0 % and 6 0%, development of extremely large post - liquefaction deformation and shear strain locali s ation properties were assessed from the analysis of the effective stress paths and stress - strain responses . To reveal possible distinctiveness, the cyclic undra ined behaviour of CHCH boiled sand was compared with that of Toyoura sand previously examined under similar testing conditions
Citation
Chiaro, G., Kiyota, T., Miyamoto, H. (2015) Large deformation properties of reconstituted Christchurch sand subjected to undrained cyclic torsional simple shear loading. Rotorua, New Zealand: 2015 New Zealand Society for Earthquake Engineering Annual Conference (NZSEE), 10-12 Apr 2015. 529-536.
This citation is automatically generated and may be unreliable. Use as a guide only.
ANZSRC Fields of Research
40 - Engineering::4005 - Civil engineering::400502 - Civil geotechnical engineering