Machine news and volatility: The Dow Jones Industrial Average and the TRNA sentiment series
(2014)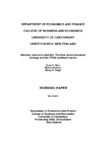 View/Open
Type of Content
Discussion / Working Papers
Publisher
University of Canterbury. Department of Economics and Finance
Collections
Authors
McAleer, M.
Allen, D. E.
Singh, A. K.
show all
Abstract
This paper features an analysis of the relationship between the volatility of the Dow Jones Industrial Average (DJIA) Index and a sentiment news series using daily data obtained from the Thomson Reuters News Analytics (TRNA) provided by SIRCA (The Securities Industry Research Centre of the Asia Pacific). The expansion of on-line financial news sources, such as internet news and social media sources, provides instantaneous access to financial news. Commercial agencies have started developing their own filtered financial news feeds, which are used by investors and traders to support their algorithmic trading strategies. In this paper we use a sentiment series, developed by TRNA, to construct a series of daily sentiment scores for Dow Jones Industrial Average (DJIA) stock index component companies. A variety of forms of this measure, namely basic scores, absolute values of the series, squared values of the series, and the first differences of the series, are used to estimate three standard volatility models, namely GARCH, EGARCH and GJR. We use these alternative daily DJIA market sentiment scores to examine the relationship between financial news sentiment scores and the volatility of the DJIA return series. We demonstrate how this calibration of machine filtered news can improve volatility measures.
Citation
McAleer, M., Allen, D. E., Singh, A. K. (2014) Machine news and volatility: The Dow Jones Industrial Average and the TRNA sentiment series. University of Canterbury. 18pp..
This citation is automatically generated and may be unreliable. Use as a guide only.
Keywords
DJIA; Sentiment Scores; TRNA; Conditional Volatility Models.
ANZSRC Fields of Research
15 - Commerce, Management, Tourism and Services::1502 - Banking, Finance and Investment
Related items
Showing items related by title, author, creator and subject.
Asai, M.

;

McAleer, M.

(

University of Canterbury. Department of Economics and Finance

,

2014

)

Modelling covariance structures is known to suffer from the curse of dimensionality. In order to avoid this problem for forecasting, the authors propose a new factor multivariate stochastic volatility (fMSV) model for ...

Allen, D. E.

;

McAleer, M.

;

Scharth, M.

(

University of Canterbury. Department of Economics and Finance

,

2014

)

In this paper we document that realized variation measures constructed from highfrequency returns reveal a large degree of volatility risk in stock and index returns, where we characterize volatility risk by the extent ...

Wei X

;

Bialkowski, Jedrzej

;

Dang, Huong Dieu

(

2022

)

Motivated by the extremely low level of the CBOE VIX accompanied by the high level of US economic policy uncertainty in the period of late 2016 to the end of 2017, we examine the factors affecting the relationship ...